Kitchen Connection - Education Partnerships
Back to Blogs
Children and adolescents have the opportunity, while in school, to learn the difference between consuming nutritious foods versus unhealthy foods through educational activities. This is also the perfect setting towards raising awareness of the disproportionate distribution of hunger in numerous countries across the globe. Kitchen Connection also encourages an increased awareness of culinary diversity at each of the educational levels, allowing children to travel without living their home countries, and to transcend the limitations created by barriers of temporal, spatial, financial, and legal restrictions.

Higher Level Education
Given our commitment to education on an improved food system, Kitchen Connection designed and implemented global curriculum for a now-mandatory course under the auspices of the Director of Nutrition and Doctoral programs at New York University. Our Director, Earlene Cruz, was invited to teach graduate-level course on topics related to food insecurity, namely delving into the impacts of conflict, climate change, economic downturns and crises on the food system.
The class is taught through a solutions-oriented lens and with a social entrepreneurial approach. Students engage with the United Nations and present their final solutions to the challenges explored in the course before field experts at the UN Headquarters in New York, in partnership with the Youth Representatives Steering Committee of the United Nations Department of Global Communications.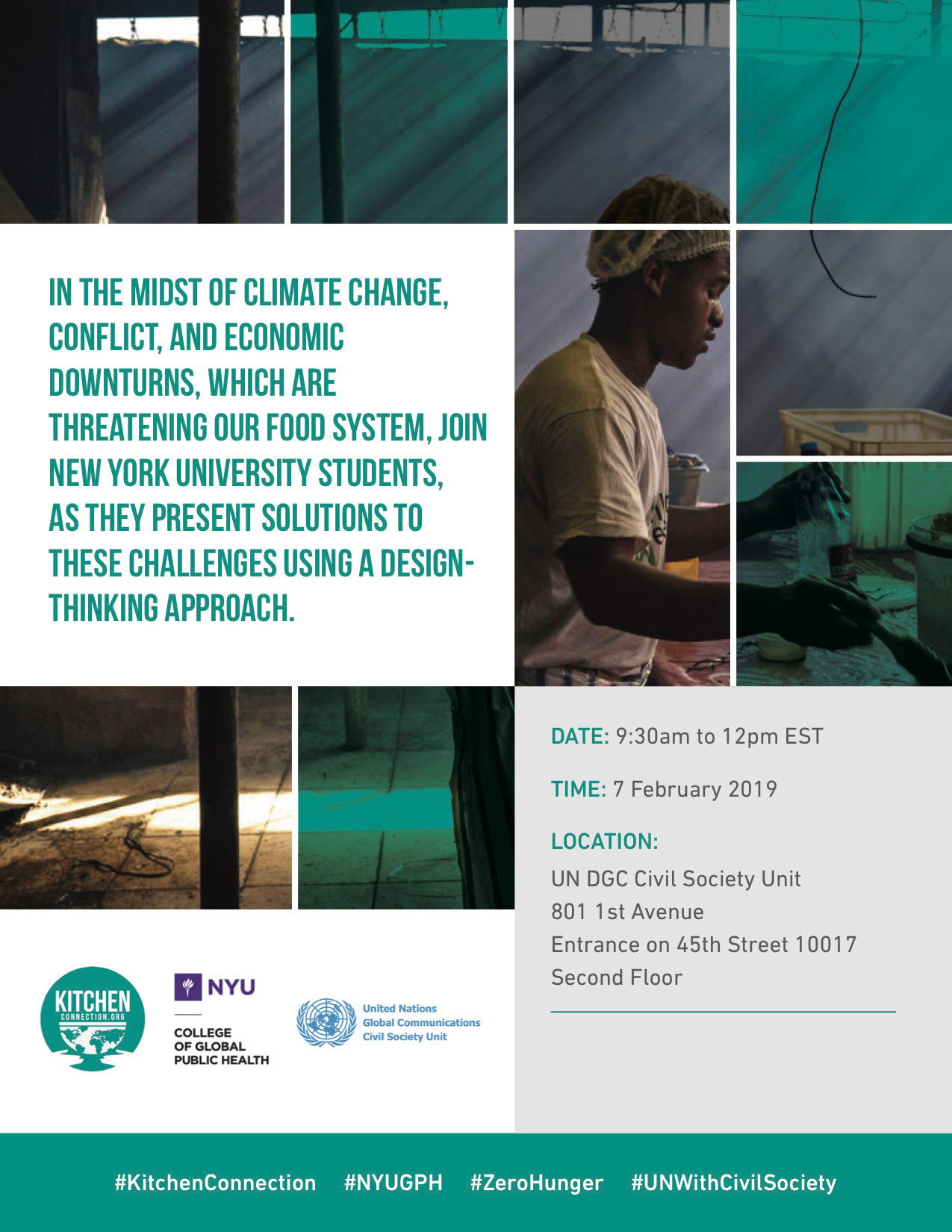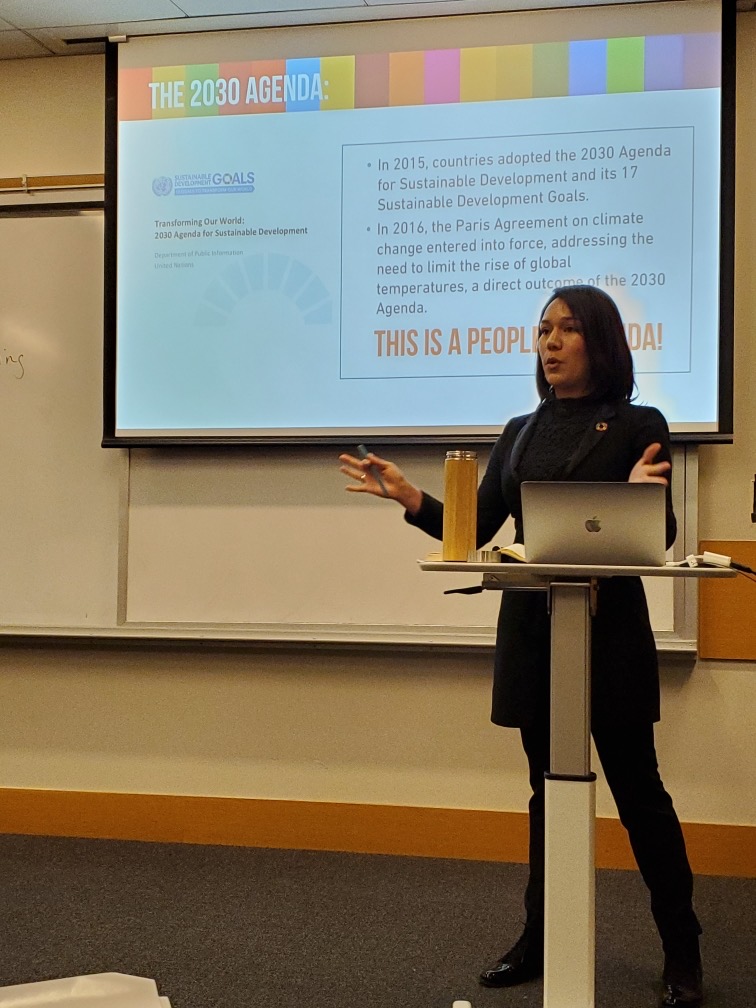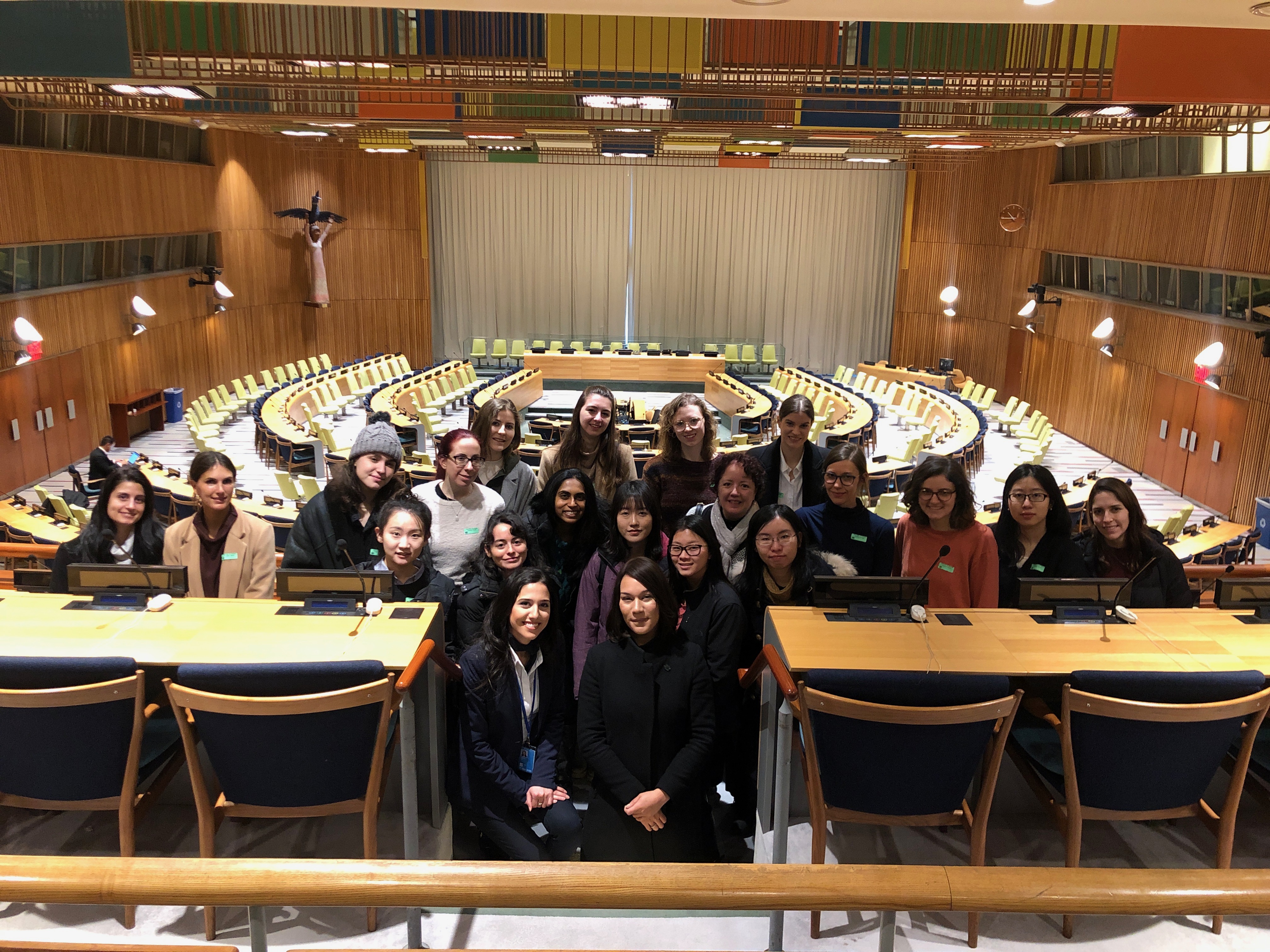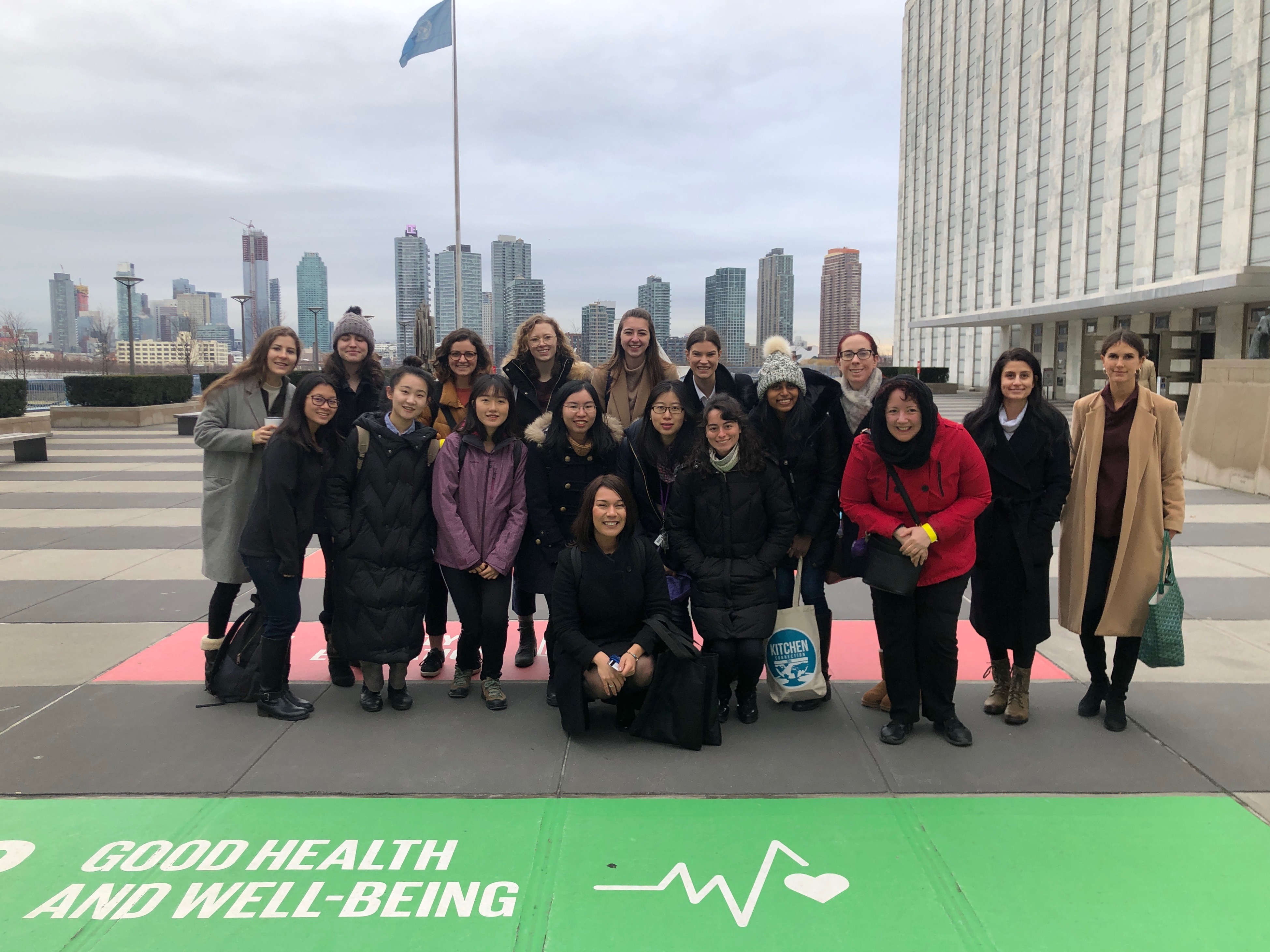 The United Nations Association of the United States of America (UNA-USA) is an organization dedicated to inform, inspire, and mobilize the American people to support the ideals and vital work of the United Nations. This agency works to strengthen the United Nations system, promoting constructive United States leadership and helps to achieve the goals of the United Nations Charter. We believe at Kitchen Connection that the partnership with UNA USA can help use the world's leaders to be the voices for change. In 2017, the UNA-USA Council collaborated with Kitchen Connection to celebrate UN Day with a cooking demonstration featuring food expert Nargisse Benkabbou live from Morocco while talking about how to address SDG's 8, 11, and 15.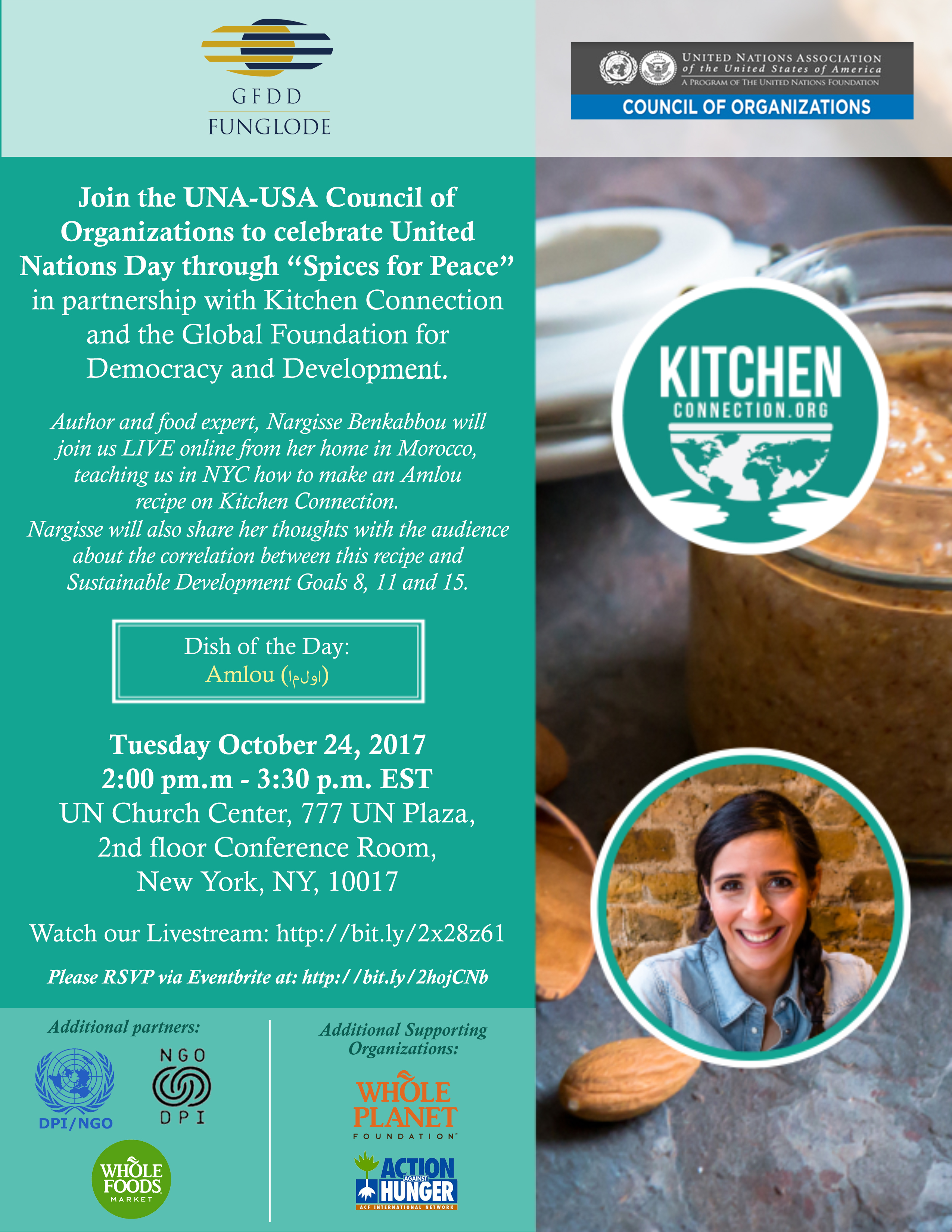 New York University
World Food Day was celebrated with Earth Matters at NYU featuring a Brazilian chef who did a cooking demonstration live from her home. She taught us how to make traditional Açai Bowls virtually on Kitchen Connection while discussing sustainability issues currently affecting Brazil.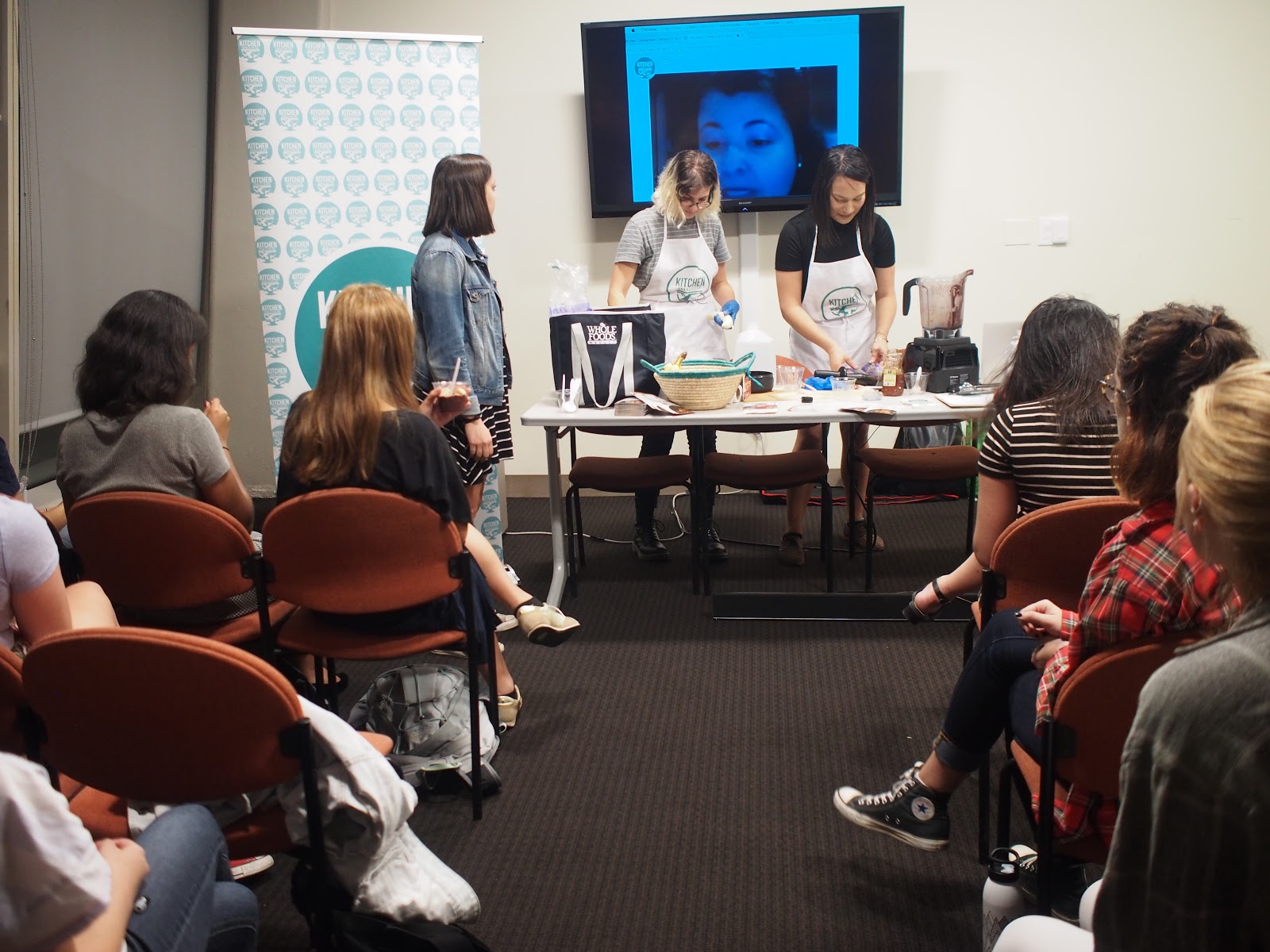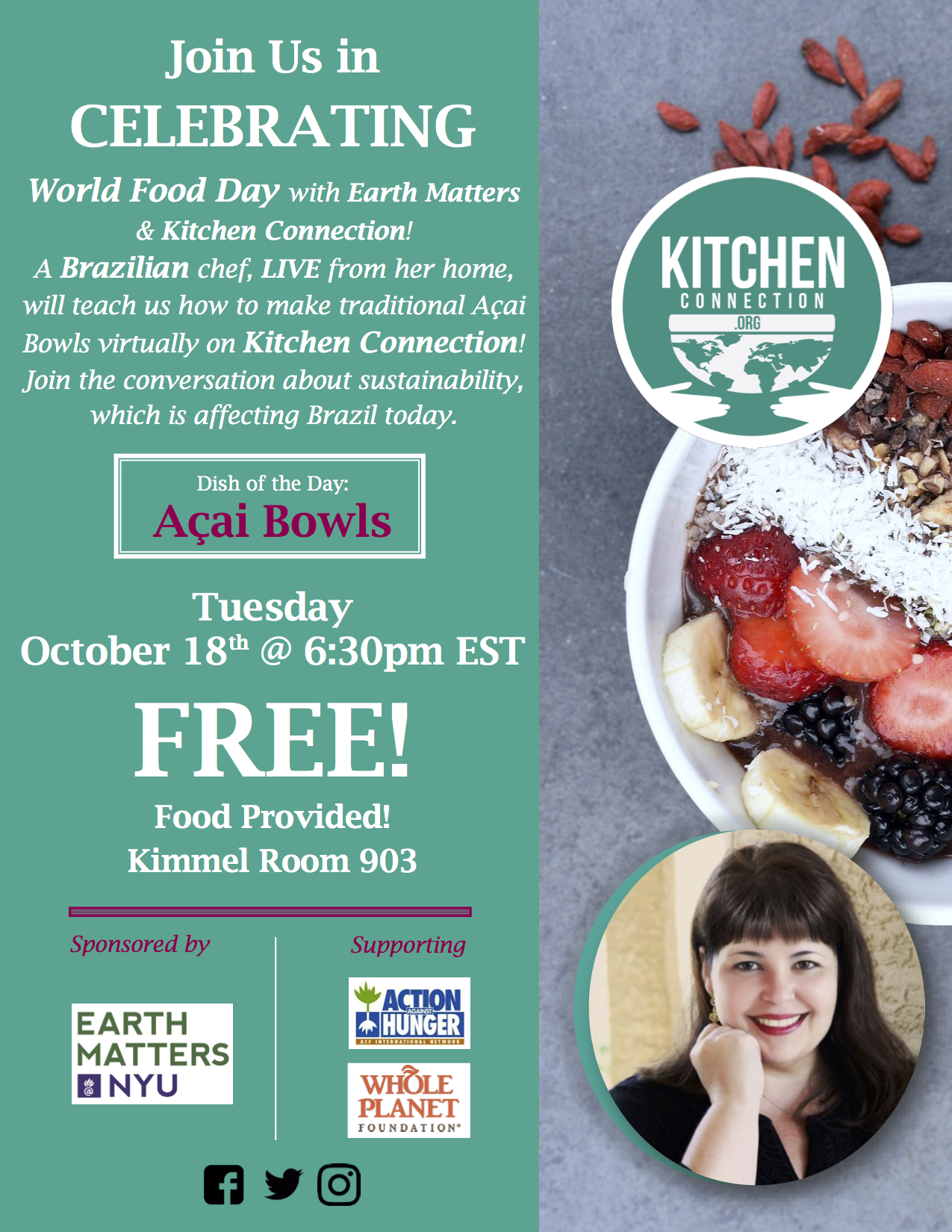 Steinhardt Food Studies Program
Kitchen Connection is combatting the overarching climate of cultural misunderstandings and misrepresentations by connecting people to learn about each from each other through an online, interactive cooking experience that opens up deeper conversation. One event through NYU's Steinhardt Food Studies Program brought together Israel and Palestine, promoting constructive cultural diplomacy by fostering a positive environment where each country would have an opportunity to communicate the similarities and unique differences within their countries cuisine. Allowing for these conversations to be possible linked the two cultures; while at the same time highlighted individual qualities, and a deeper understanding of one another was created.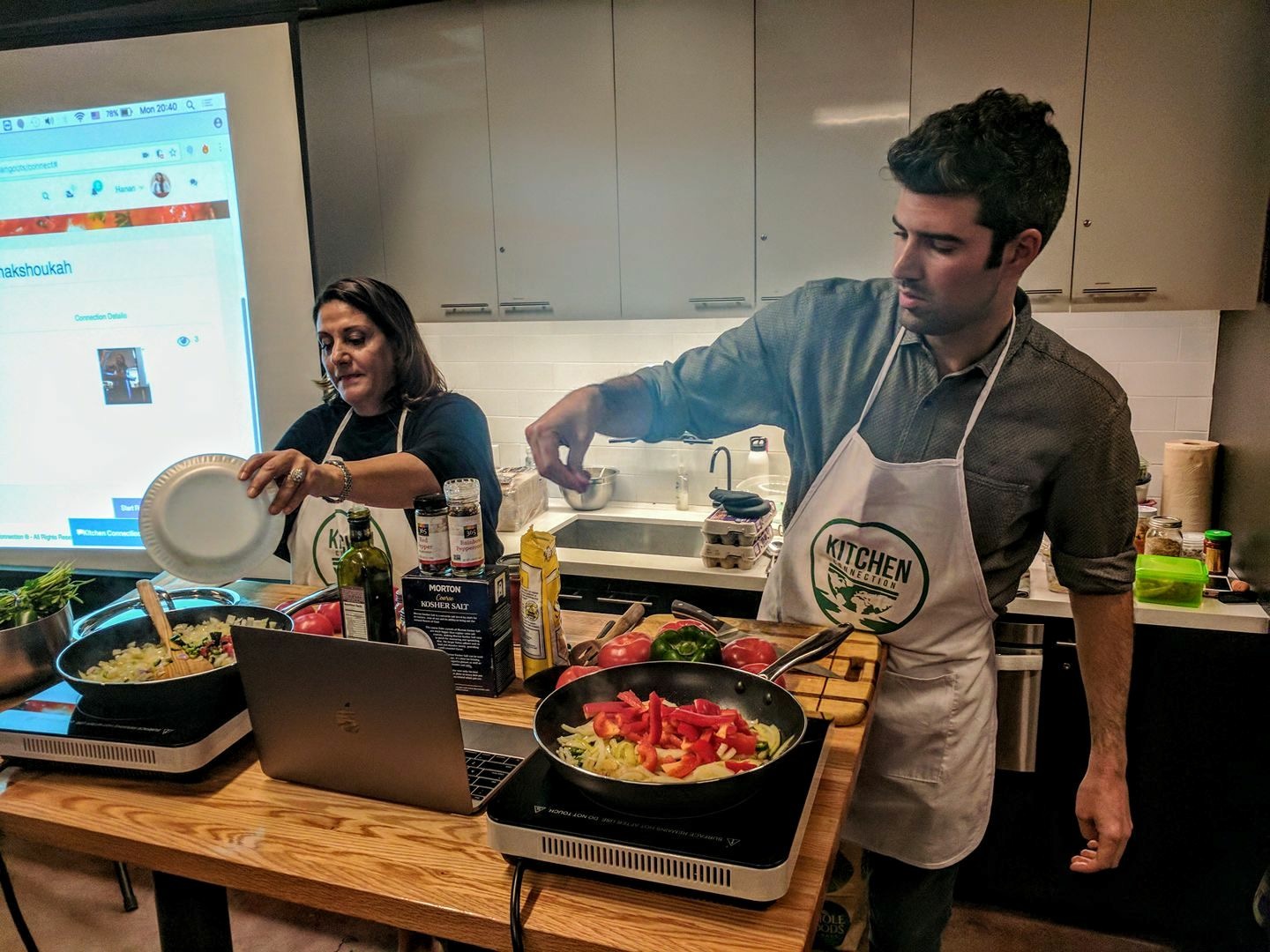 College of Global Public Health
In honor of the United Nations General Assembly 2018 and in collaboration with the SDG2 Advocacy Hub, IFAD and NYU's Nutrition Without Borders initiative, Kitchen Connection hosted a cooking challenge with three international chefs representing African nations. Following the cooking challenge, was a panel discussion to raise awareness about food issues and highlighting Kitchen Connection's 2019 campaign focus on African cuisine.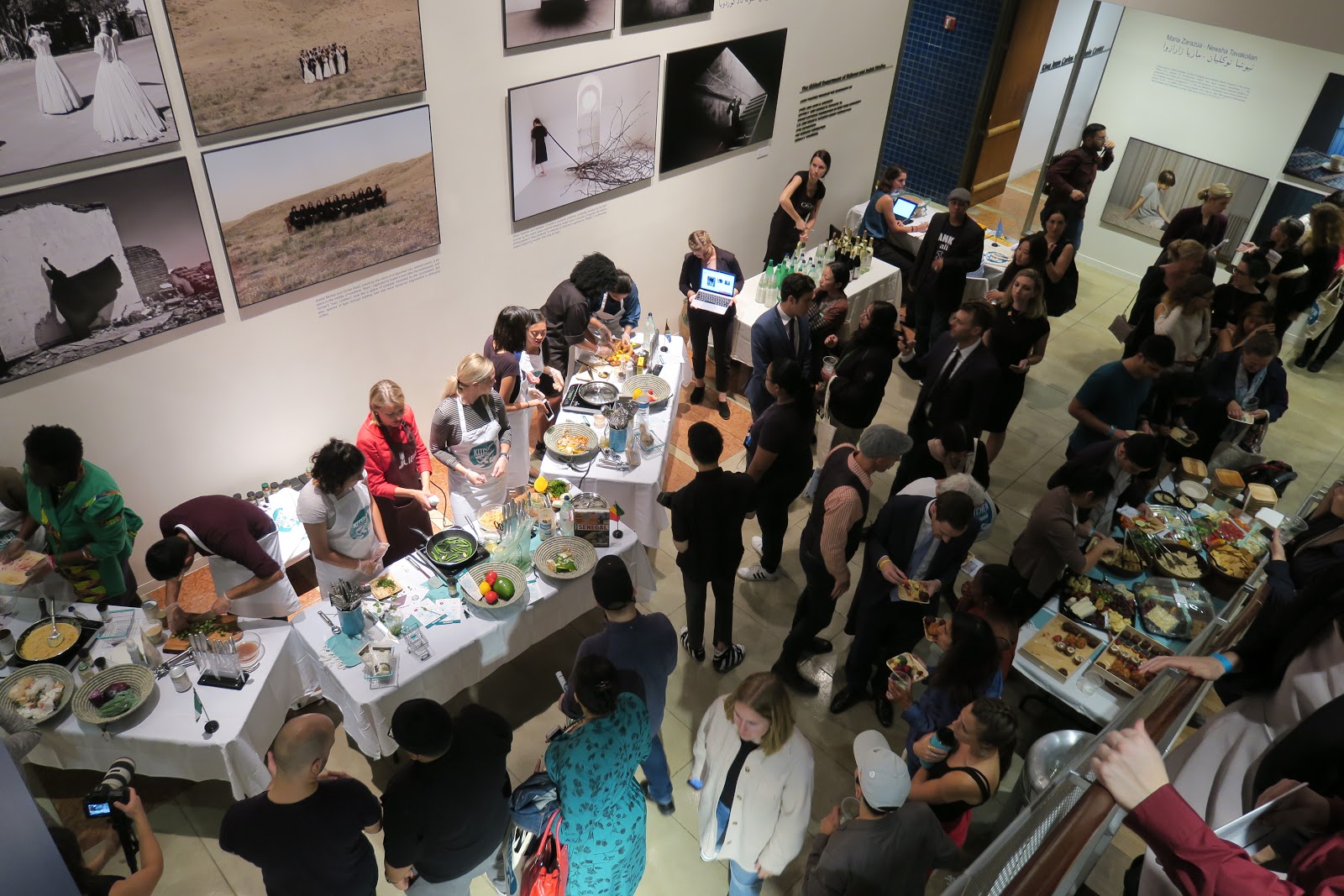 UNA-USA | Seton Hall University
A recent event with the UNDPI featured "Ecuadorian Cacao as a Vehicle Towards Understanding" with a UNA-USA Model UN campus chapter streaming in from this university.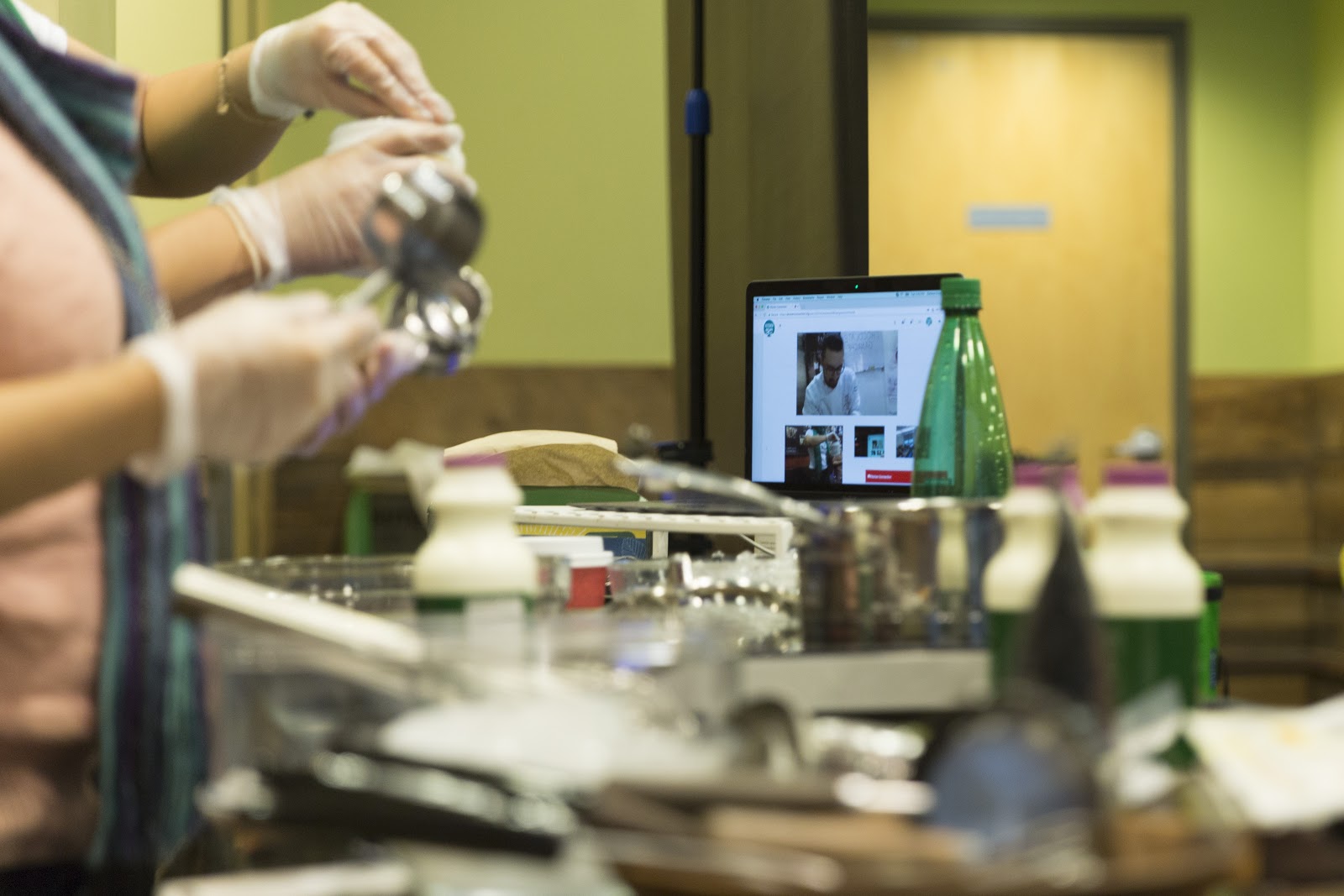 High School
An event at the French Embassy gave the hosted students the opportunity to learn French through an interactive online cooking experience with someone from Algeria. This partnership will continue with home cooks from the francophone world.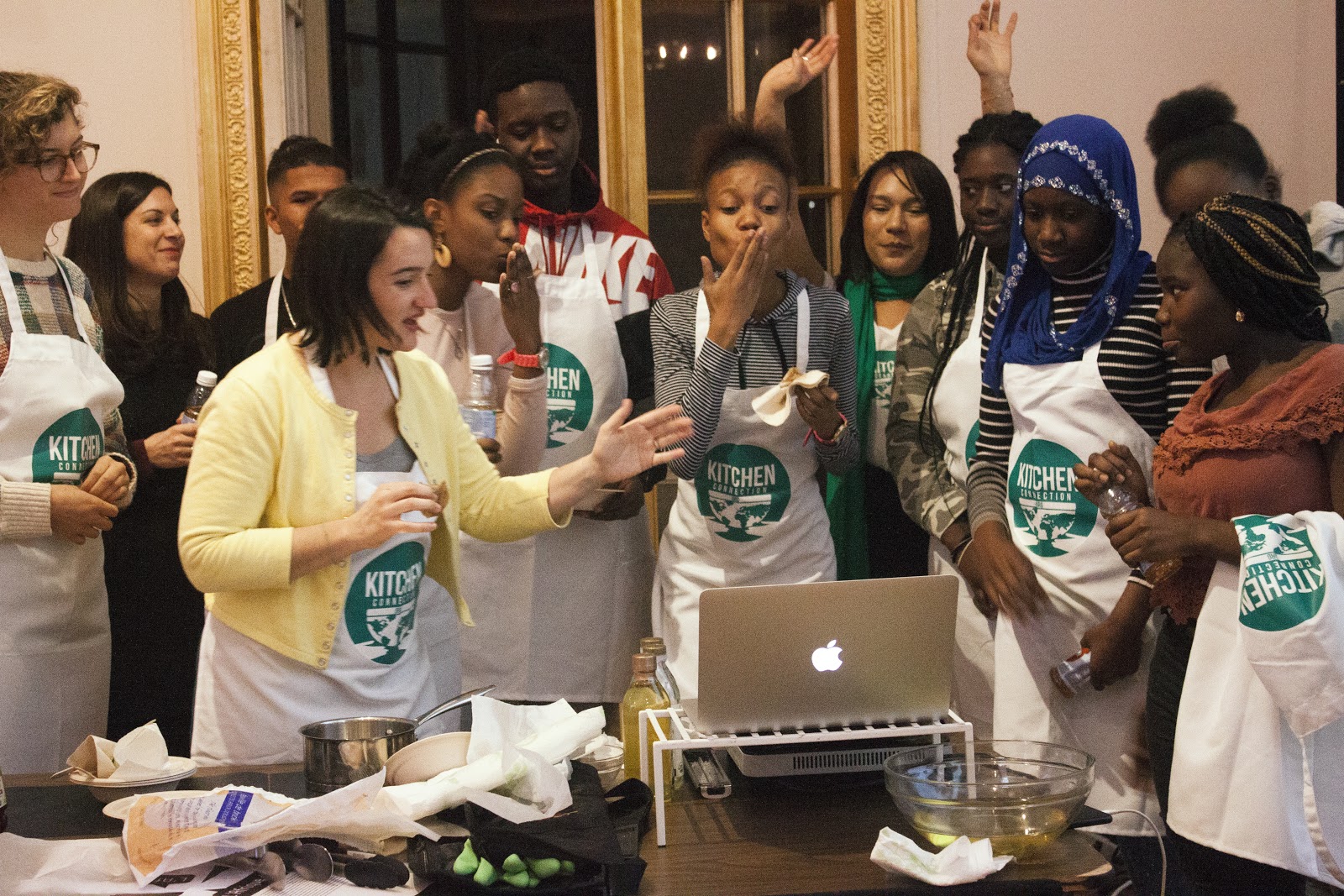 Primary School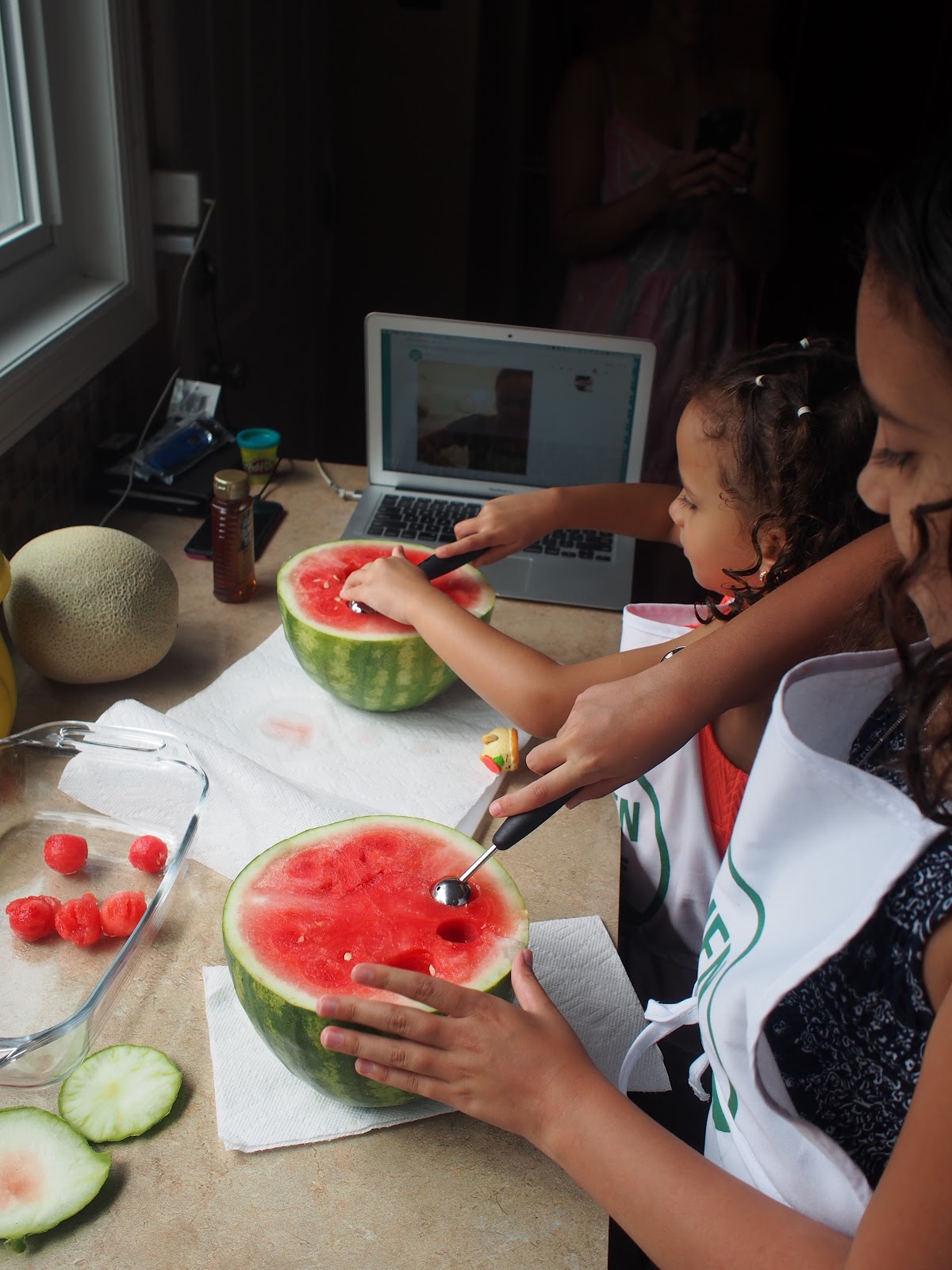 Kitchen Connection believes it is important for children to see themselves represented. By focusing on one country each month, we hope to not only teach recipes, but to tell the stories of the people and the culture behind each recipe. At the French Embassy, we hosted primary school children to cook a nutritious French-inspired school lu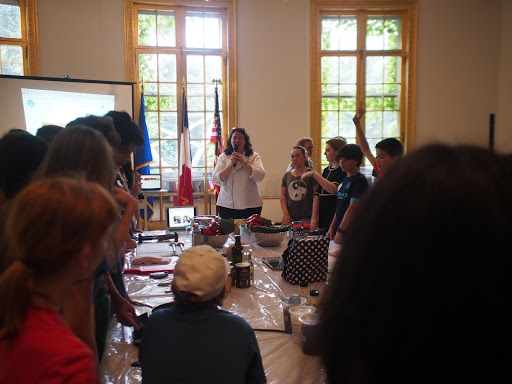 Kitchen Connection has partnered with international schools, including a school in Brazil, where the children learned how to make a Nigerian dish, adapted to local ingredients. The US flag in the picture details the impact of cross-cultural connections at the primary school level.
We've also hosted a series of globally themed culinary classes, like a "Colorful Quinoa" class with Whole Food Market.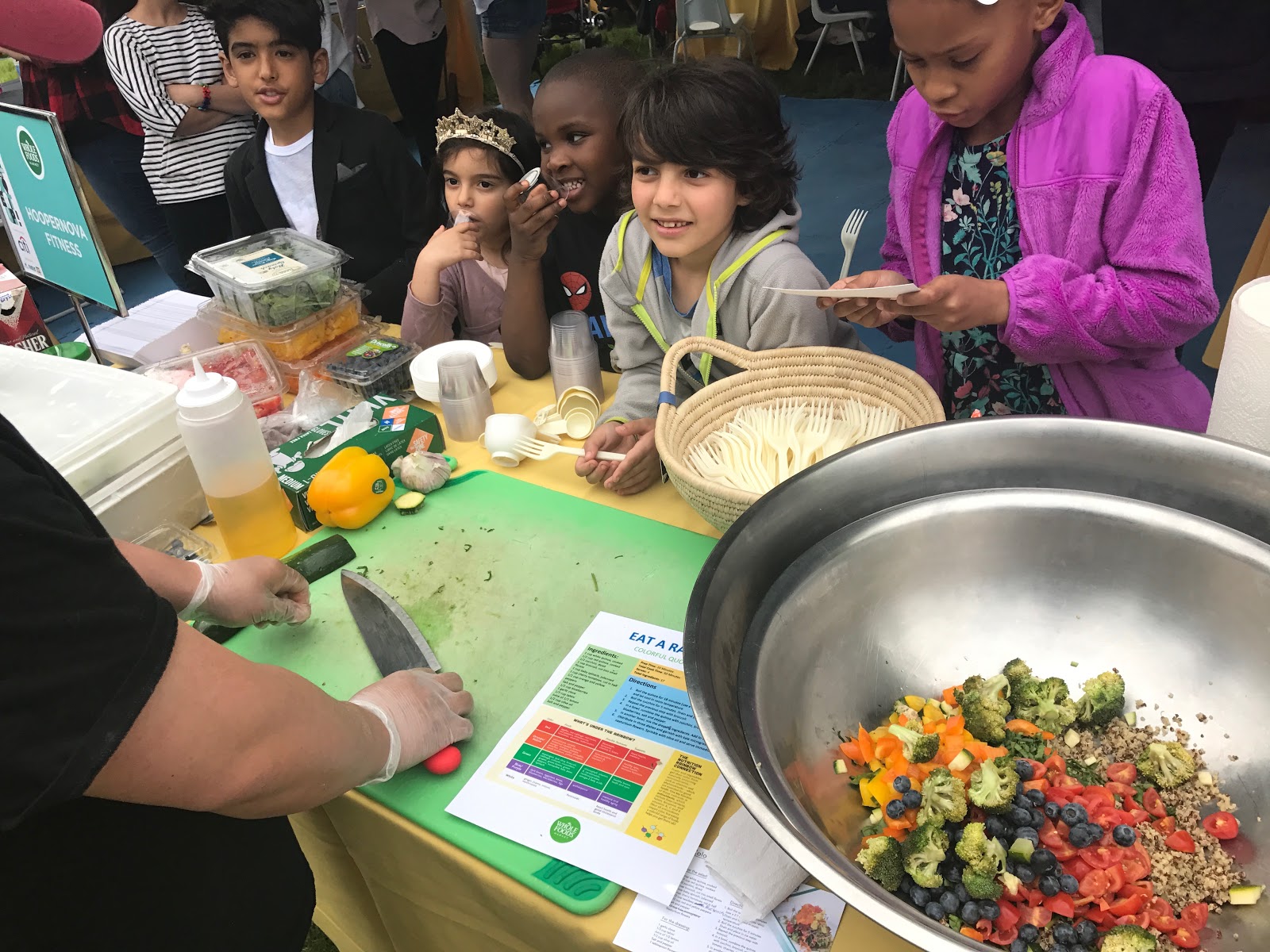 Tags :
Education
Kitchen Connection
Kitchen Connection Partnerships
Kitchen Connection

Using this space to Connect you with the world, your world!