Kitchen Connection - Featured Cheffie: Ruddy From Guadeloupe (French Version)
Back to Blogs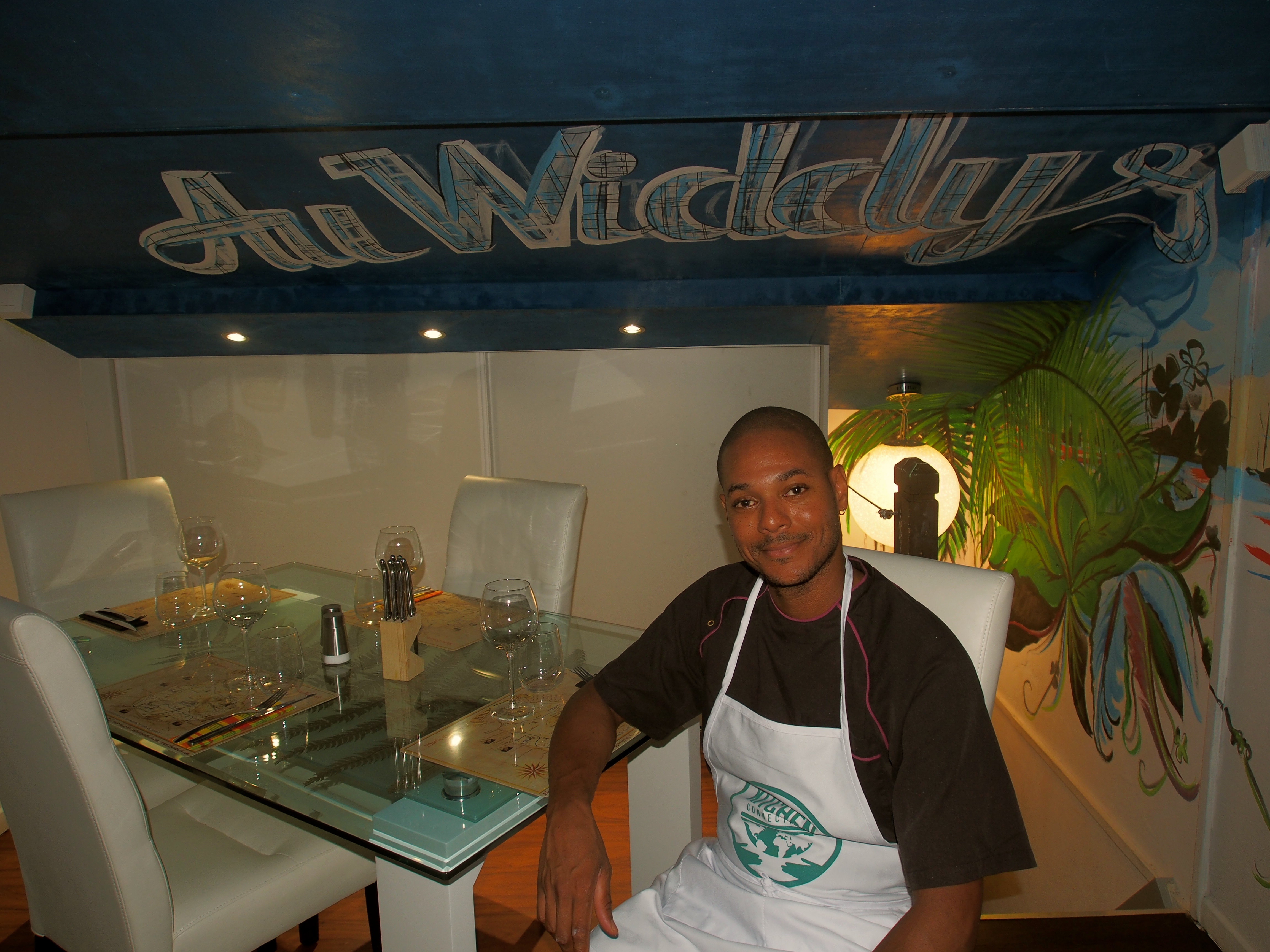 À son restaurant, Au Widdy's, à Saint Francois, Guadeloupe
"Si vous voulez bien cuisiner, soyez créatif et surtout généreux. Ne sacrifiez jamais la saveur par manque de générosité."
Ruddy, un nom guadeloupéen très à la mode dans les années 80 et 90, mais aussi celui d'un chef célèbre de là-bas. Ayant découvert sa vocation culinaire dans le restaurant de ses parents, il est devenu un chef reconnu dans le monde entier pour sa cuisine typique de la région. Ses recettes de poisson ont fait sa réputation. Nous avons la chance de l'avoir dans nos pages ce mois-ci ! Lisez pour en découvrir plus sur sa vie et ses goûts :

I. Sur Lui
1. Vous préférez le café ou le thé ? Le café.
2. Pour qui préférez-vous cuisiner et avez qui préférez-vous manger ? Mes amis.
3. Quels sont les plats dont vous préférez enseigner la cuisine ? Le dombré.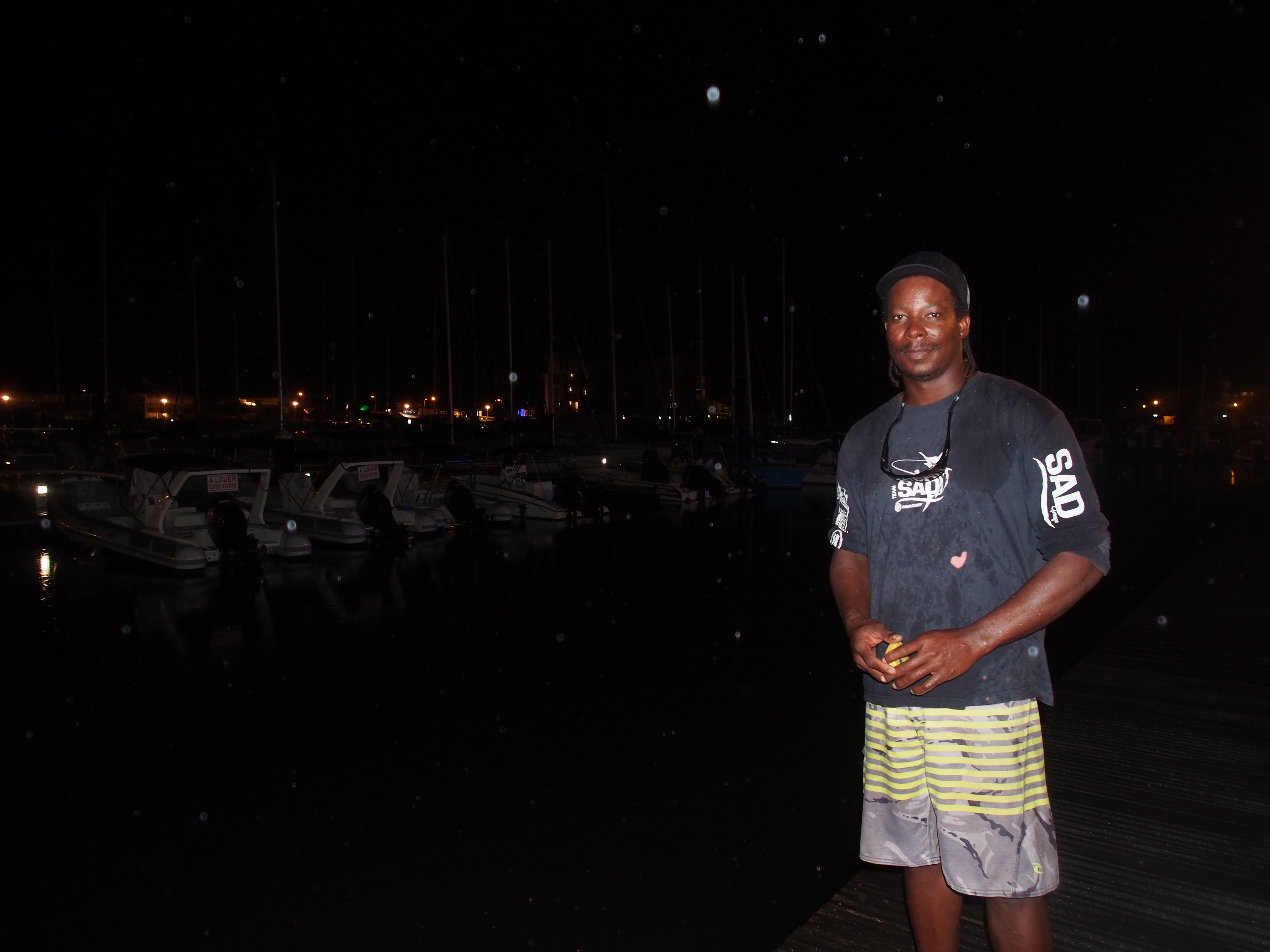 Charles Belamour, Ami de Ruddy et "pêcheur interne": "[La peche] c'est mon métier, c'est ma passion!"
4. Avez-vous des superstitions culinaires ? Non.
5. Si vous deviez vous faire tatouer un aliment, lequel serait-ce ? Ce serait une tortue ; pas vraiment un aliment, mais j'aime les tortues.
6. Quel est le plat, la boisson ou l'élément culinaire que vous vous aimeriez apprendre à cuisiner ? J'aimerais beaucoup apprendre à faire plus de pâtisseries, notamment les pâtisseries japonaises.
7. Qu'est-ce que la nourriture à vos yeux ? Comment a-t-elle changé/ façonné votre vie ? C'est une forme d'expression. C'est un hobby et un métier tout à la fois. C'est un art à travers lequel j'exprime mes émotions.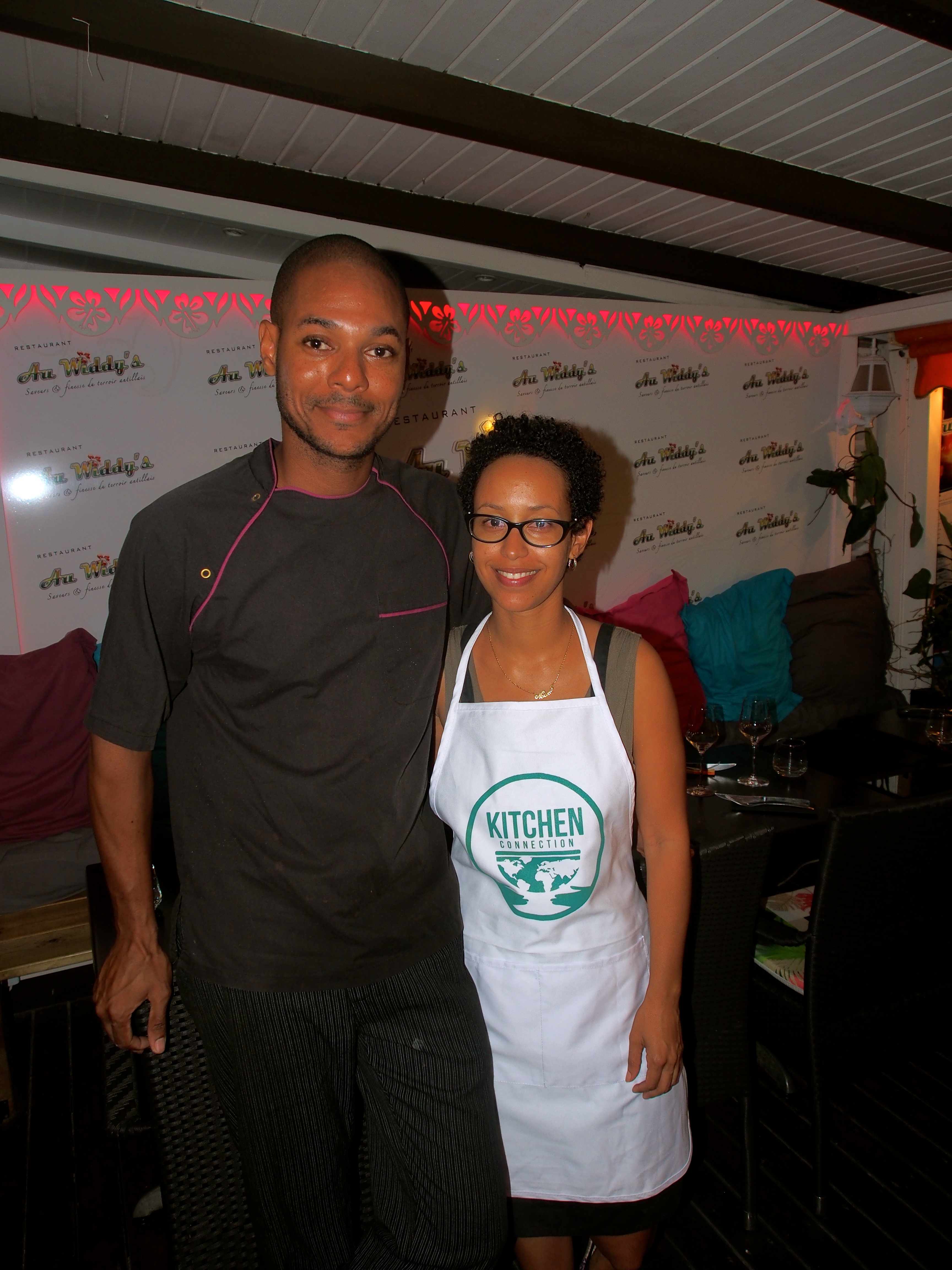 Chef Ruddy et son partenaire
8. Racontez-nous comment la nourriture vous a aidé à établir une connexion avec un inconnu. Eh bien, au Japon, les chefs cuisinent en général directement devant vous, alors là-bas j'ai pu en rencontrer beaucoup et discuter avec eux. Ils sont chaleureux et méticuleux, précis et organisés.
9. Si vous ne vivez pas là où vous avez grandi, comment vos traditions culinaires ont-elles évolué avec vous ? J'ai grandi à Marie Galante, une île au large de l'île principale de la Guadeloupe. Mes parents avaient un restaurant, alors quand je suis allé en Normandie, en France, pour poursuivre mes études culinaires, j'ai commencé à incorporer la cuisine traditionnelle de chez moi à ce que j'apprenais sur place et ce que j'avais appris lors de mes voyages en Asie.
10. Qui est à l'origine de votre vocation ? Qui a eu la plus grande influence sur votre façon de cuisiner ? Le chef du restaurant de mes parents.
11. Quel est votre conseil aux cuisiniers amateurs comme professionnels ? Est-ce qu'on vous l'a transmis, ou bien l'avez-vous appris sur le terrain ? Si vous voulez bien cuisiner, soyez créatif et surtout généreux. Ne sacrifiez jamais la saveur par manque de générosité.

II. Son Voix Online

Tags :
Ruddy
Featured
Cheffie
Guadeloupe
French
Chef
Kitchen Connection

Using this space to Connect you with the world, your world!