Kitchen Connection - Kitchen Connection Goes to: Brazil
Back to Blogs
Brazil is the largest country in South America and Latin America and houses over 208 million people. Portugese is the official language, but Spanish is also spoken. Brazil is known for having the large Amazon River Basin, which includes rainforest territory with diverse and endangered wildlife. Brazilian food is a big part of their culture, and can sometimes vary depending on what region you are in.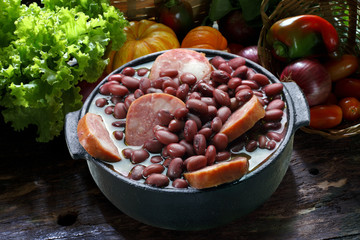 Feijoada is the national dish of Brazil. It is a smoky beef, pork, and beans stew that is usually served with rice. Pictured above is a version of feijoada that includes sausage and black beans.
Official Name: Federative Republic of Brazil
Capital: Brasilia
Official Language(s):Portugese
National Dish(es):Feijoada
Fun Facts
Brazil is the second largest agricultural exporter in the world.

Brazil houses the most beautiful beach in the world according to TripAdvisor.
"Insider Foodage"
*Country: Brazil
*Continent: South America
Capital: Brasilia
*Largest City (ies): Sao Paulo
*Primary Language(s): Portugese
*%Urban to Rural: 86.31%
*Primary Agricultural Exports: sugarcane, coffee, soybeans, corn
*Population: 220,632,960
*Food expenditure for one week: $329
*Caloric intake available daily per person: 3,263 kcal
*Alcohol consumption per capita: 7.21 litre
*Obese population: 20.0%
*Meat consumption per person per year: 85.3%
*Prevalence of Hunger: 5 Global Index Score
Tags :
Kitchen Connection
Brazil
Featured
Country
Brazilian
Food
Travel
Kitchen Connection

Using this space to Connect you with the world, your world!