Kitchen Connection - Kitchen Connection Goes to: Ecuador!
Back to Blogs
Depending on where and when you go to Ecuador, you can experience many different climates; differences in altitude and proximity to the equator changes the temperature. The coastal lowlands in the western part of Ecuador are typically warmer with temperatures around 25 degrees Celsius (77 Fahrenheit).
Straddle the equator in Ecuador! Getting to Quito, Mitad del Mundo, also known as the Middle of the World, is as easy as a few bus rides away from La Mariscal. Taking a fun picture on either side of the equator is perfect for the memory book!
Ecuador is home to South America's largest marketplace. Three hours north of Quito, you can find Otavalo Market and practice your haggling skills while picking up authentic souvenirs.
Insider Footage
Country: Ecuador
Continent: South America
Capital: Quito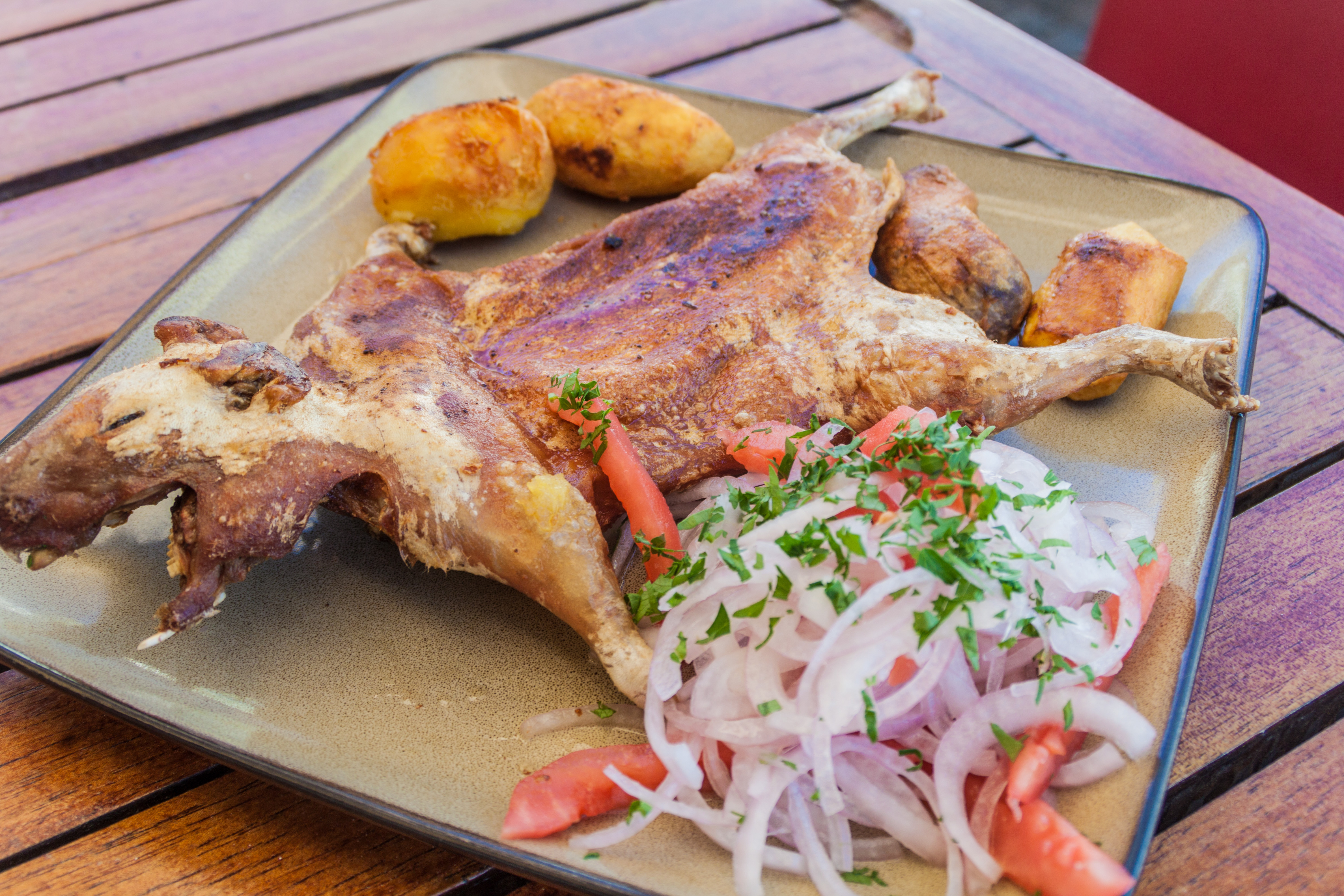 Cuy
A cuy is a South American guinea pig that is a famous and traditional dish in the highlands. It is generally reserved for special occasions because it is an expensive meal.
Largest City (ies): Guayaquil, Quito
Culinary travel destination(s): The Quilotoa Loop, Canoa, & Mindo
Primary Language(s): Spanish
%Urban to Rural: 63.7% Urban vs. 36.3% Rural
Primary Agricultural Exports: In 2014 Ecuador exported $27.4B, making it the 69th largest exporter in the world. Bananas account for 11.8% of the exported goods.
Population: 15.74 million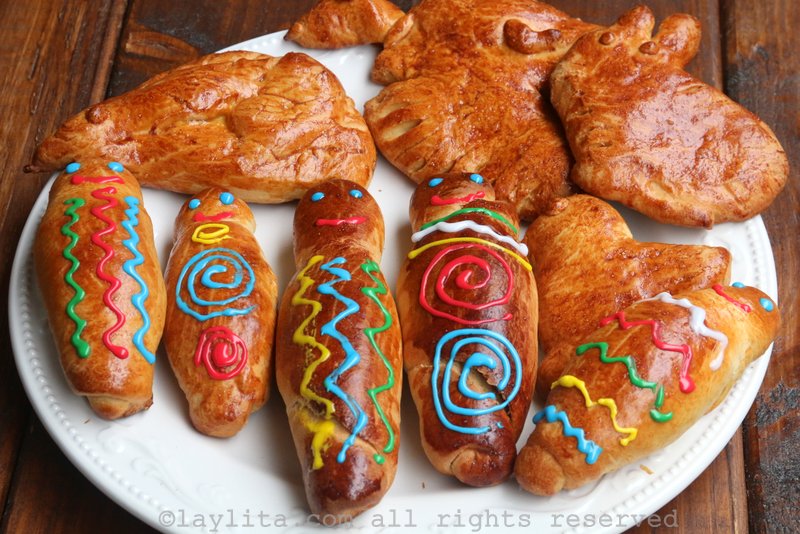 Guaguas de pan
Guaguas de pan, also known as bread babies, are sweet breads shaped into what resembles a baby swaddled into a blanket. It is a traditional Ecuadorian custom to have these along with colada morada for the Day of the Deceased.
*Food expenditure for one week: $17.44
*Caloric intake available daily per person: 2,300
*Alcohol consumption per person: 7.2 litres
*Obese population: male 16.6% /female 27.6%
*Big Mac Price: 5.69 U.S. Dollars
*Meat consumption per person per year: 56.4 kg
Prevalence of Hunger: 10.9%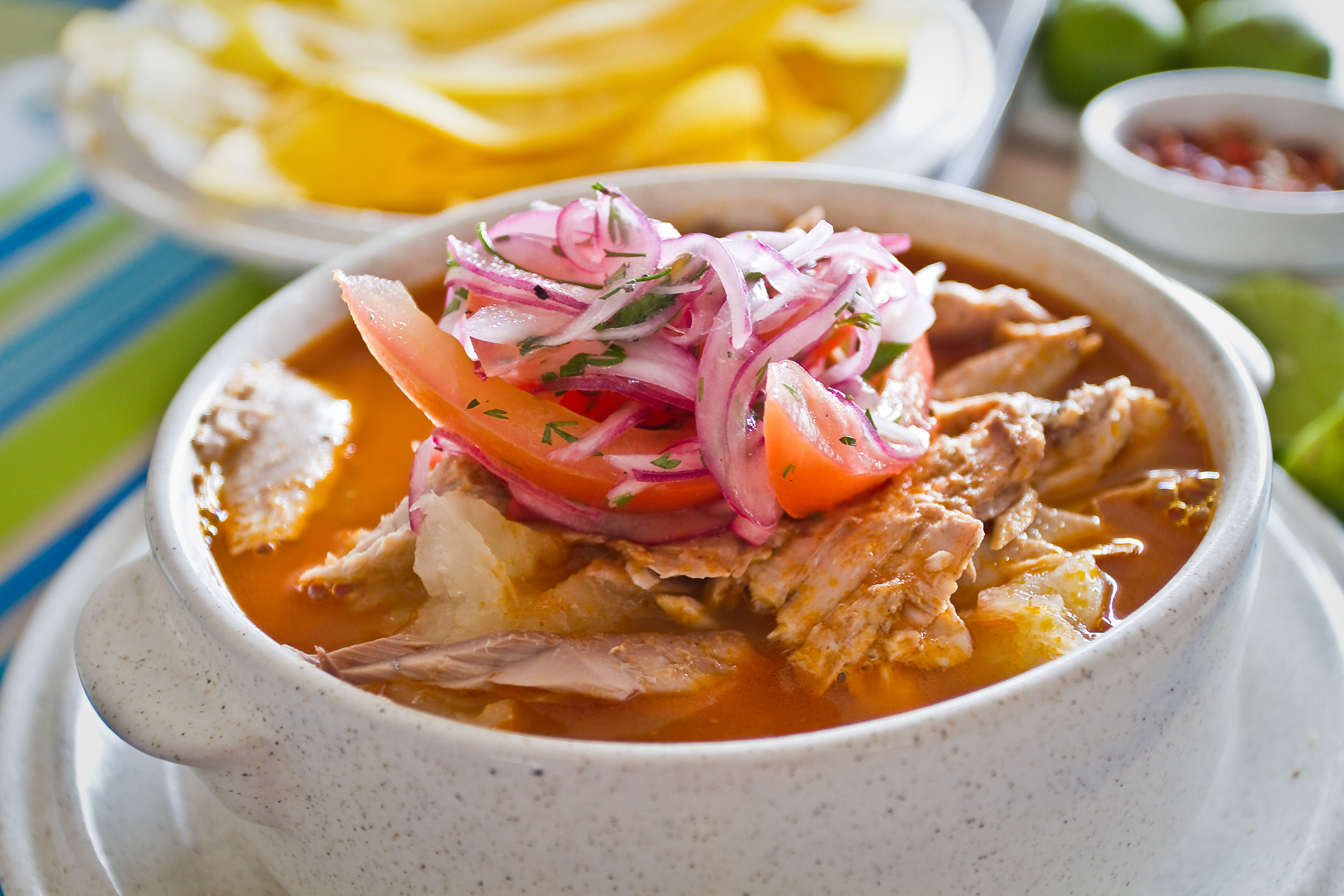 Encebollado
Encebollado is a fish soup from Ecuador served with boiled cassava and pickled red onion rings. A dressing of onion is prepared with fresh tomato and spices such as pepper or coriander leaves.
Culture: The majority of Ecuador's population is mestizo, a mixture of both European (Andalusian and Castilian Spaniard) and Amerindian ancestry. The other 10% of Ecuador's population is of European descent, predominantly from Spain, Italy, Lebanon, France and Germany.
National Dishes:
- Traditional foods of the highland region of Ecuador are often based around potatoes, sweetcorn, cheese and avocados. Guinea pig, "cuy," is a famous and traditional dish in the highlands, often reserved for special occasions as it is not cheap.
- Typical Ecuadorian dishes in the costa makes use of local ingredients such as plantain (savoury banana), yuca (a type of yam), coconut and rice.
- Encocados are fish or prawns in a rich coconut sauce, usually served with rice and patacones.
- Ceviche, raw seafood (or boiled, in the case of prawns) marinated in lime or lemon juice with chilli and onion, is perhaps the most famous traditional dish of Ecuador, usually served with popcorn.
- Encebollados (literally, "onionateds") are a local food, though not well known outside of Ecuador. They consist of seafood in a tangy, tomatoey soup with mashed yuca, onion and coriander.
National Drink(s): Colada morada is a traditional Ecuadorian drink made with fruits, spices, and purple corn flour. Canelazo is warm spiced cinnamon cocktail made with cinnamon, water, sugar and aguardiente.
Special Holiday Foods: Holiday foods will depend on the holiday and the family's ethnicity. The following are just some examples:
- Easter: A special and very filling soup, fanesca, is prepared with many different ingredients and garnishes.
- All Souls Day/Day of the Dead: Decorated bread babies (guaguas de pan) are eaten. Colada morada is drunk at this time, as well.
- La Navidad (Christmas): The special Christmas Eve dinner is a fairly new tradition. Only recently have families begun serving turkey for Christmas Eve. Before, families would have the less expensive chicken, or a bit of beef, along with boiled potatoes, rice, and salad. Normally, there is no dessert. Instead they have a plate of fried bread rounds, which one can dip in brown sugar sauce, along with tragos, or liquor.
Fun foodie facts: The national tree of Ecuador is the cinchona, tree which produces Quinine, the first drug used to prevent and treat malaria. In addition to this, the summit of Mount Chimborazo, Ecuador's highest mountain, is the point on Earth closest to the sun. Due to the mountain's location along the equatorial bulge, its summit is the farthest point from the Earth's core. This also means that Ecuador is the closest country to space.
Tags :
Kitchen Connection
Ecuador
Featured
Country
Food
Travel
Kitchen Connection

Using this space to Connect you with the world, your world!