Kitchen Connection - Kitchen Connection Goes to: Indonesia!
Back to Blogs
Stepping foot onto Indonesia, the first thing you will notice is the almost entirely tropical climate. The humidity in the air is quite high and ranges between 70 to 90 percent year round.
Yogyakarta serves as a hub for historical and cultural Java, Indonesia. It has a must-see main street with narrow valleys and it has everything from ancient attractions to shopping, food and culture.
If you happen to be in Indonesia during June, you will want to watch the celebration of Waisak. Each person calls it a different name and thinks it celebrates different things. This is because it is a different kind of celebration. Waisak is not about crazy parties, as it is a celebration of spirituality and acceptance.
Insider Footage
Country: Indonesia
Continent: South-Eastern Asia
Capital: Jakarta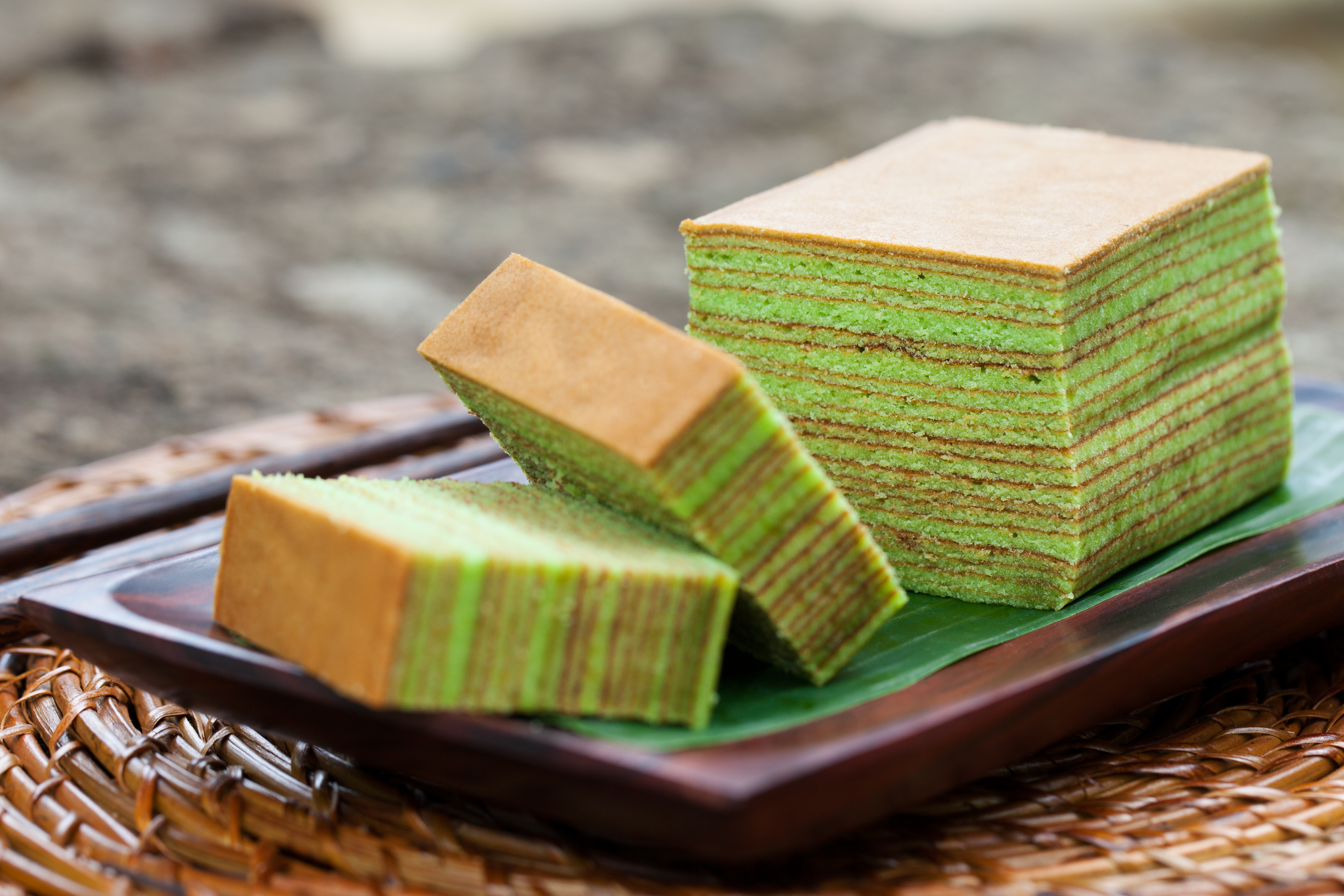 Balinese cakes, aka Jaja
These colored cakes made of fried rice dough are used in offerings and are also eaten especially on Galungan. (Galungan is a Balinese holiday celebrating the victory of dharma over adharma. It marks the time when the ancestral spirits visit the earth.)
Largest City (ies): Jakarta & Surabaya
Culinary travel destination(s): Manado, North Sulawesi; Makassar, South Sulawesi; Padang, West Sumatera; Jakarta, DKI Jakarta; & Bandung, West Java
Primary Language(s): Indonesian
%Urban to Rural: 53.7% Urban vs. 46.3% Rural
Primary Agricultural Exports: About 45% of Indonesian workers are engaged in agriculture, which accounted for 17% of GDP in 2001. Some 76.6 million acres are under cultivation, with 35% to 40% of the cultivated land devoted to the production of export crops. Some 60% of the country's cultivated land is in Java. Although rice, vegetables, and fruit constitute the bulk of the small farmer's crops, about 20% of output is in cash crops for export, the chief of which is rubber. Of the estate grown crops, rubber, tobacco, sugar, palm oil, hard fiber, coffee, tea, cocoa, and cinchona are the most important.
Population: 249.9 million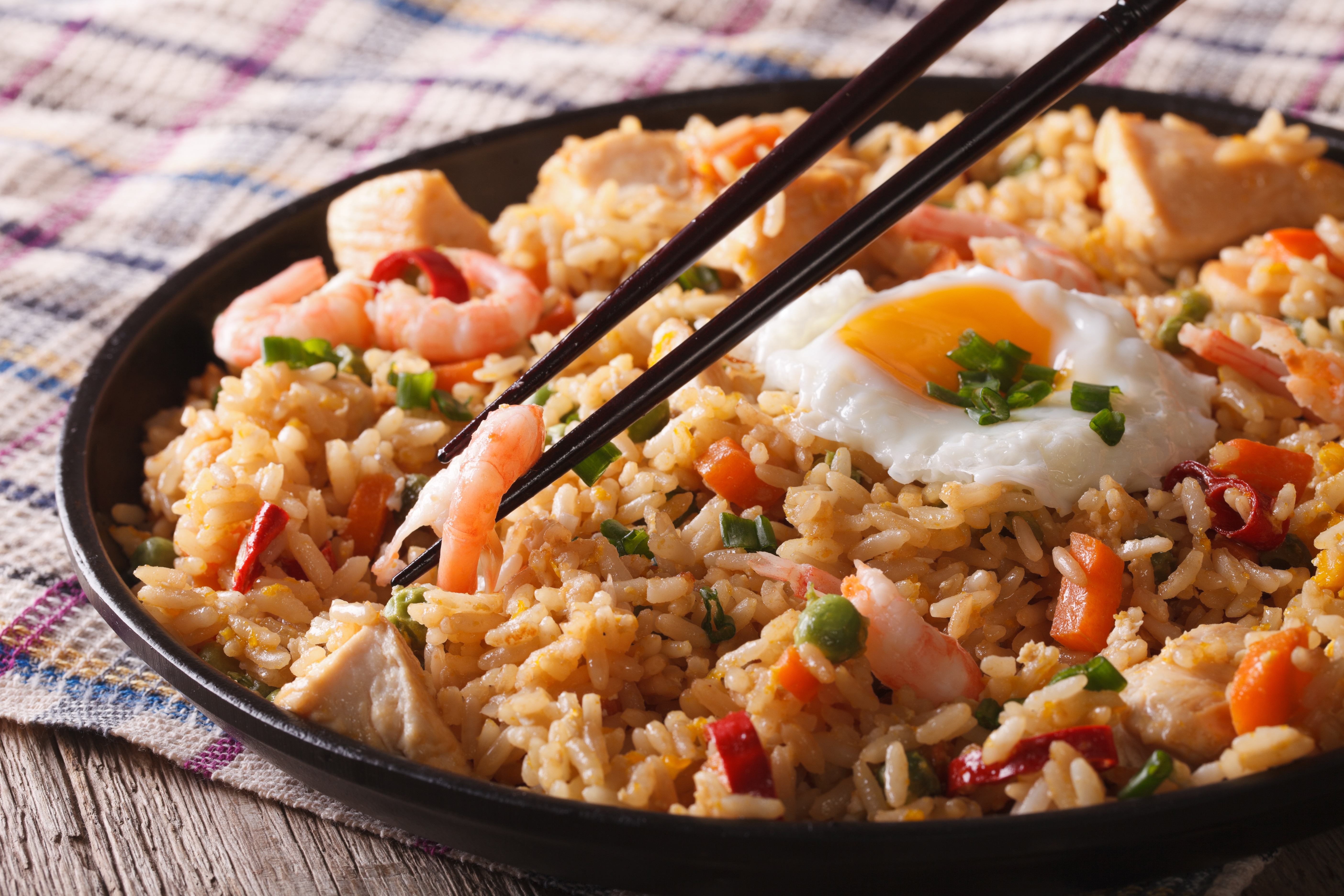 Nasi goreng
Nasi goreng literally means "fried rice" in Indonesian. The meal includes stir fried rice in a small amount of cooking oil and is typically spiced with kecap manis (sweet soy sauce), shallot, garlic, ground shrimp paste, tamarind, and chilli. It is generally accompanied by other ingredients such as egg, chicken, and prawns.
*Food expenditure for one week: €36 or ~$41
*Caloric intake available daily per person: 2,550
*Alcohol consumption per person: 0.6 litres
*Obese population: male 3.0% /female 8.2%
*Big Mac Price: 2.36 U.S. Dollars
*Meat consumption per person per year: 11.6 kg
Prevalence of Hunger: 7.6%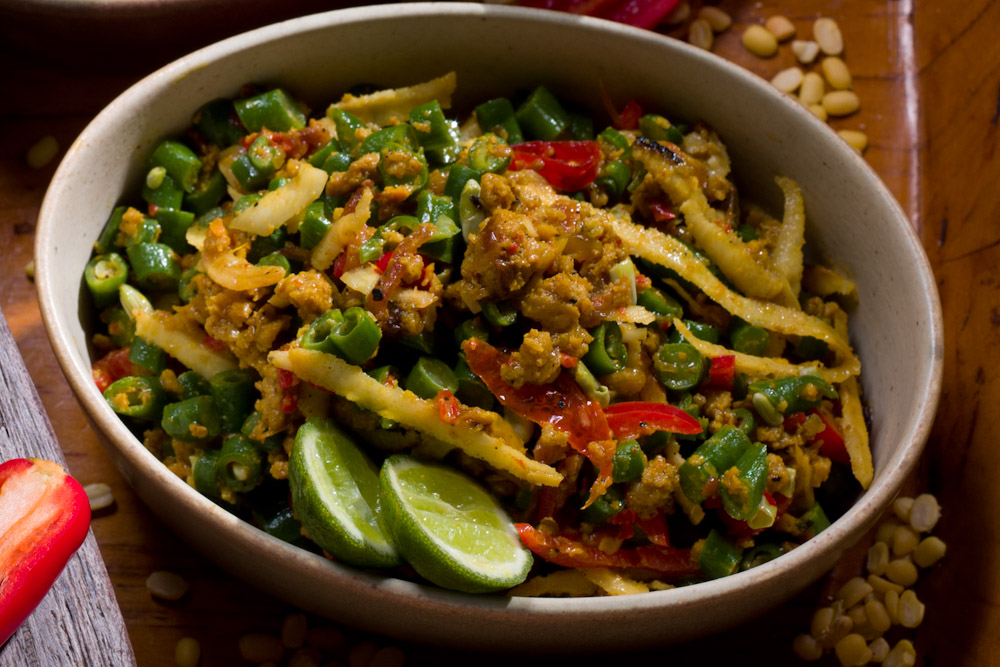 Lawar
Lawar is a dish created from a mixture of vegetables, coconut, and minced meat. It is normally mixed with rich herbs and spices.
Culture: Indonesia is centrally-located along ancient trading routes between the Far East, South Asia and the Middle East, resulting in many cultural practices being strongly influenced by a multitude of religions, including Hinduism, Buddhism, Confucianism, Islam and Christianity, all strong in the major trading cities.
National Dish (es): Nasi goreng. Considered Indonesia's national dish, this take on Asian fried rice is often made with sweet, thick soy sauce called kecap (pronounced ketchup) and garnished with acar, pickled cucumber and carrots.
National Drink(s): Bajigur has a sweet and savory taste because it is made from coconut milk and brown sugar and is usually served in a relaxed moment and leisure. Wedang Ronde is a traditional drink meaning "drink" in Javanese. The drink is a special batter consisting of a mixture of rice flour and brown sugar shaped dots and crushed peanuts.
Special Holiday Foods: Holiday foods will depend on the holiday and the family's ethnicity. The following are just some examples:
- Sekaten Fair: The feast culminates with the procession of food mounds known as gunungan, which are blessed and distributed to the people. Devotees believe that good luck and a good harvest come to those who can secure a piece of the gunungan.
- Galungan: Two days before Galungan, on "Penyajahan," Balinese cakes known as jaja are prepared. These colored cakes made of fried rice dough are used in offerings and are also eaten especially on Galungan. A day before Galungan, "Penampahan" or slaughter day, Balinese slaughter the sacrificial animals that will go into the temple or altar offerings. Galungan is marked by the sudden surplus of traditional Balinese food, like lawar (a spicy pork and coconut sauce dish) and satay.
Fun facts: Indonesia is home to many of the largest things in their categories. The Komodo dragon, found in Indonesia, is the largest lizard in the world growing up to 3 meters in length. The world's largest flower, Rafflesia Arnoldi, weighs up to 7kg and only grow on the island of Sumatra. Indonesia has the largest Muslim population in the world. Borobudur temple, in Central Java, is the largest Buddhist temple in the world, decorated with 2,672 relief panels and 504 Buddha statues.
Tags :
Kitchen Connection
Indonesia
Featured
Country
Food
Travel
Kitchen Connection

Using this space to Connect you with the world, your world!