Kitchen Connection - Kitchen Connection Goes to: Mexico!
Back to Blogs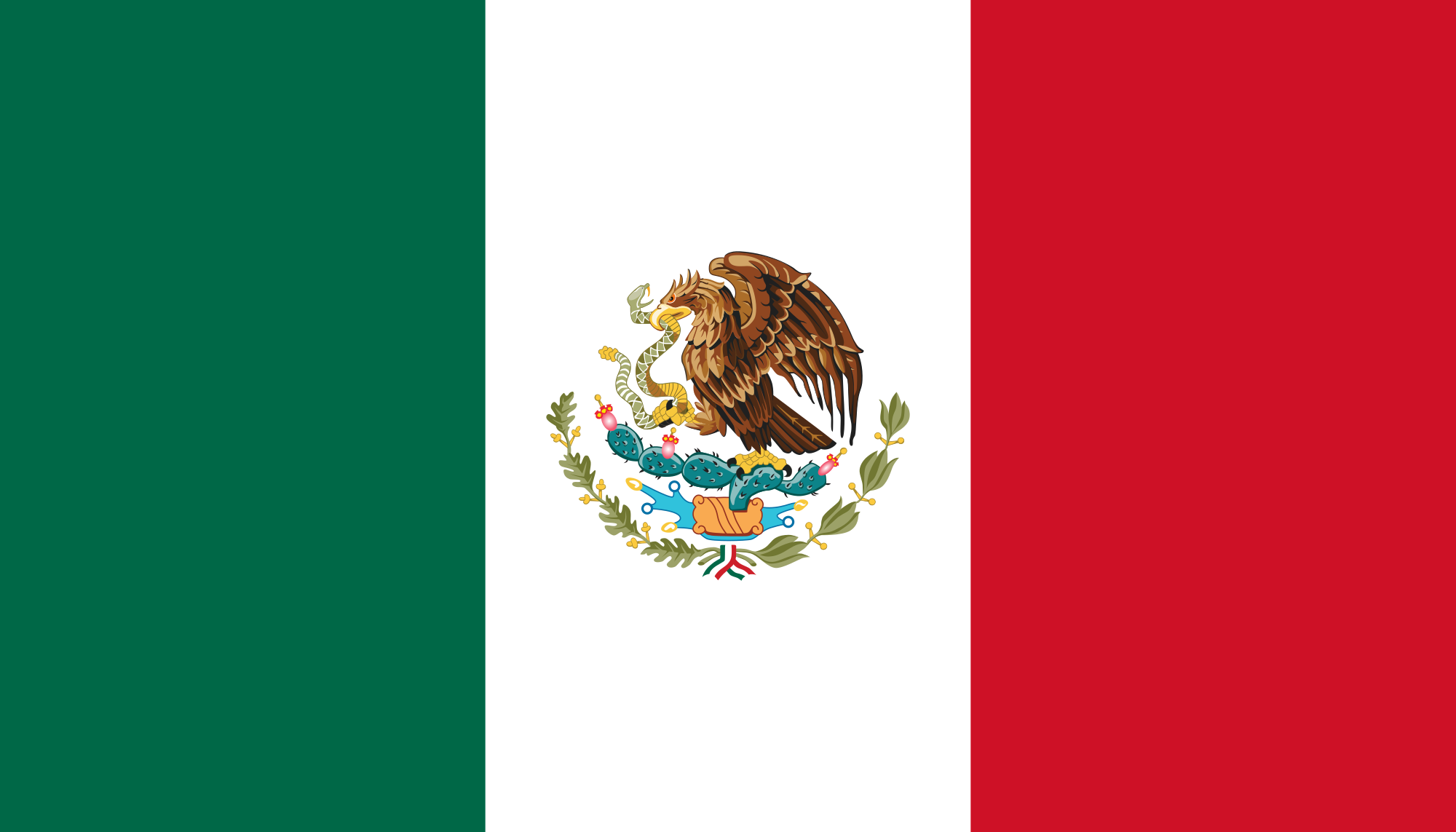 Flag of Mexico
Mexico is bordered to the north by the United States; to the south and west by the Pacific Ocean; and to the southeast, by the Caribbean Sea, Guatemala and Belize, making it a beautiful beachside destination. Mexico is the 6th largest country in the Americas and the 13th largest independent nation in the world. Mexican cuisine is famous for its bold and colorful flavors and spices. The local food varies by region, however, North America is most familiar with dishes such as enchiladas, tamales, and burritos.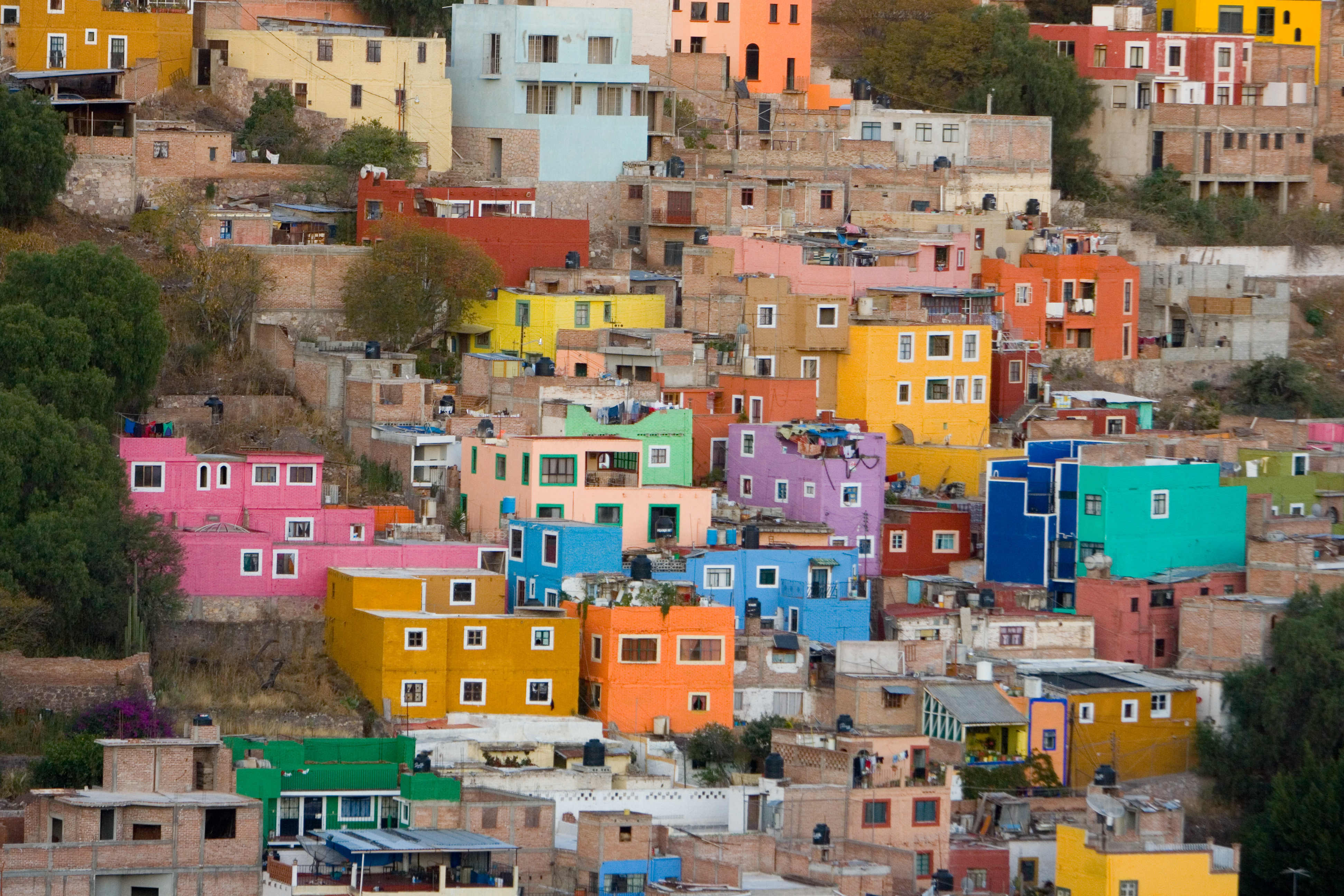 Colorful buildings in Mexico
Official Name: United Mexican States
Capital: Mexico City
Official Language(s): Spanish
National Dish(es): Mole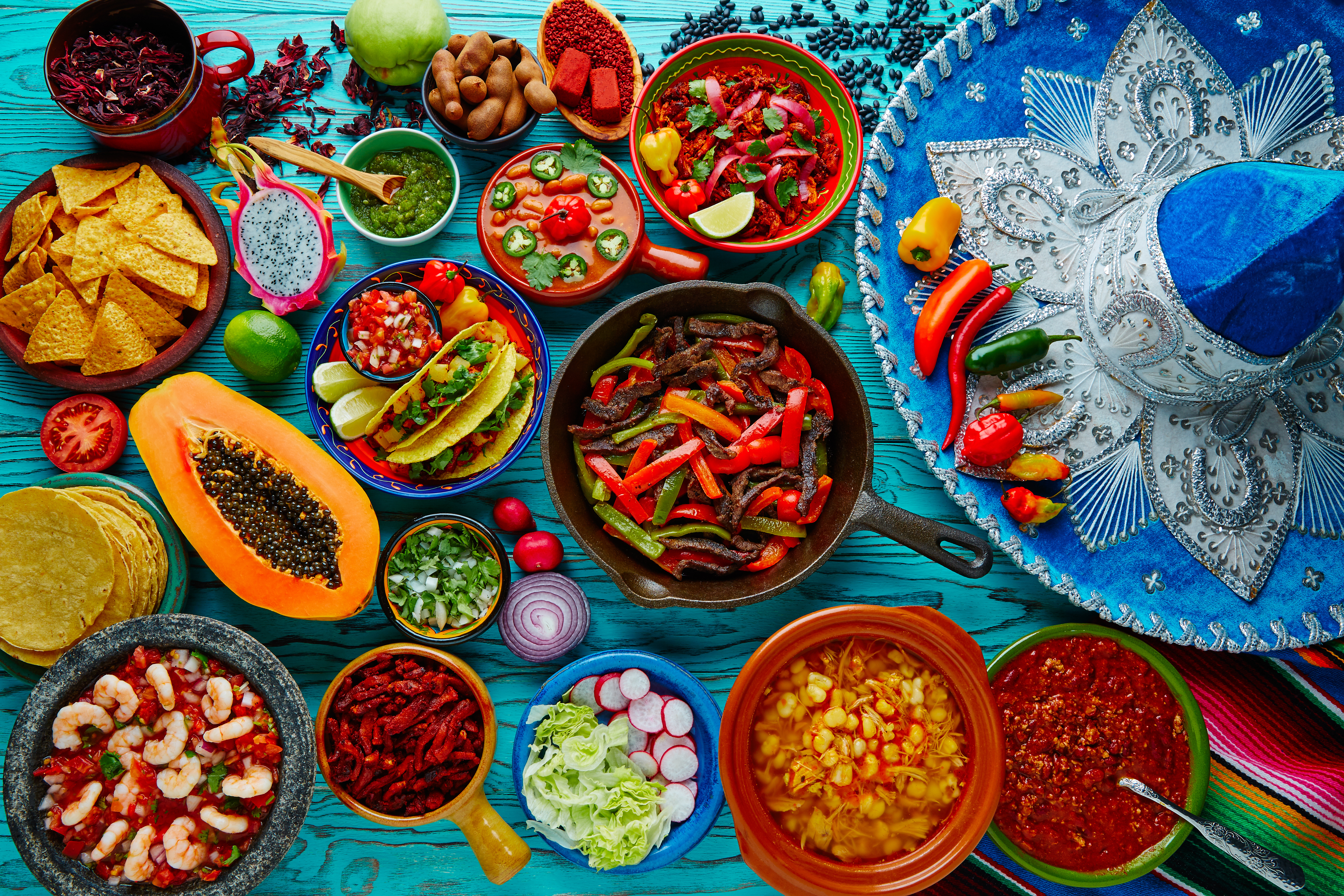 Mexican food mix colorful background
Fun Facts:
Millions of monarch butterflies migrate to Mexico every year from the U.S. and Canada.
Mexico City is the oldest city in North America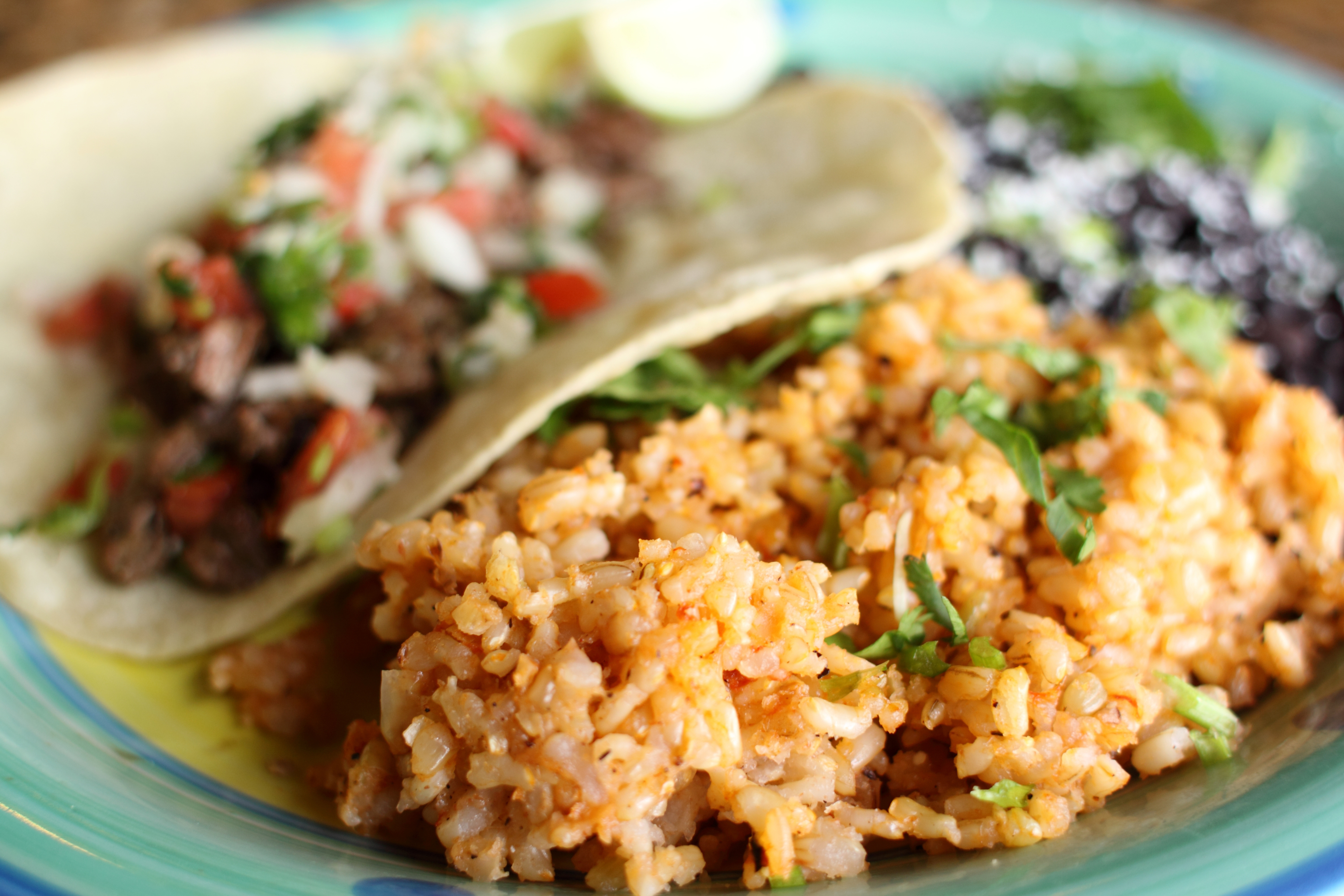 Steak soft taco with beans and rice.
"Insider Foodage"
Country: Mexico
*Continent: North America
*Capital: Mexico City
*Largest City (ies): Matamos, Reynosa
*Culinary travel destination(s): Mexico City, Baja California, Sinaloa, Hermosillo, Oaxaca City, Merida, Guadalajara, Puebla
*Primary Language(s): Spanish
*%Urban to Rural: 79.8%
*Primary Agricultural Exports:
*Population: 121,116,960
*Food expenditure for one week: $25.90
*Caloric intake available daily per person: 3,260
*Alcohol consumption per person: 5.26 liters
*Obese population: 36,294,881
*Big Mac Price: $4.77
**Meat consumption per person per year: 63.8 Kg
*Prevalence of Hunger: <5%
*Culture:
The culture of Mexico has undergone a tremendous transformation over the past few decades and it varies widely throughout the country. Many Mexicans live in cities, but smaller rural communities still play a strong role in defining the country's collective vibrant community.
*National Dish (es): Mole
*National Drink(s): Atole, Tequilla
*Major Holidays/Special Holiday Foods: Diez y Seis
Mexico's Independence Day is celebrated on Sept. 16, the day in 1810 when Father Miguel Hidalgo y Costilla urged Mexicans to rise up against the Spanish-born ruling class. In towns and cities across Mexico, citizens gather at midnight on Sept. 15 in their community's main square to hear the mayor, or, in Mexico City, the president, repeat Father Hidalgo's "grito," or cry for freedom. At sunrise on the 16th, military and civic parades kick off a day of celebration that includes fireworks, food and music--three key elements in any Mexican fiesta.
Day of the Dead
Dia de los Muertos is celebrated across Mexico, with each region stamping its own cultural mark on the observance. On All Saints Day, Nov. 1, small children who have died are honored as "angelitos," little angels. The next day, All Souls Day, is the day set aside for remembering older family members, friends, even the famous who have passed away. Family altars or public displays are set up and decorated with photographs, mementos and "ofrendas"--offerings of food, refreshments and symbolic gifts. In some regions, families hold vigils and feasts at the cemetery, while in other regions, candy skeletons or pan de muerto, a sweet bread, are consumed.
The Christmas Season
The Christmas season begins on Dec. 16 with Las Posadas. Children, portraying the Holy Family arriving in Bethlehem, go from door to door in the neighborhood seeking shelter. Traditionally, Mexican children received their presents on Dia de los Santos Reyes, Three Kings Day, on Jan. 6, but the Christmas traditions popularized in Northern Europe and the U.S. are beginning to take hold in Mexico, giving kids two days during the season to receive Christmas gifts.
Lent and Easter
Mexico celebrates Carnaval--Mardi Gras in the U.S.--with raucous parades and displays of conviviality, particularly in Veracruz and Mazatlan, where two of the biggest pre-Lenten celebrations are held. (Dates vary since the fiesta is linked to the Easter calendar.) Mexicans also celebrate Semana Santa, Holy Week, with festivals and religious parades on Good Friday and Easter Sunday. But they also mark the season by heading to the beach or mountains for a family vacation, sometimes making hotel reservations hard to come by for foreign tourists.
Dia de la Raza
It translates literally as "day of the race," but the Oct. 12 national holiday actually marks the arrival of Christopher Columbus in North America. It is a complicated celebration that always provokes national reflection on Mexico's Old and New World roots. Each year, the day brings a new round of introspection and public debate among scholars and politicians. The day is also noted for large public parades and gatherings.
Dia de Nuestra Senora de Guadalupe
She is the patron saint of Mexico, Our Lady of Guadalupe, the dark-skinned Virgin Mary who appeared to Juan Diego, a poor Indian convert to Catholicism, on a hillside near Mexico City in 1531. No one believed him until, after a third appearance of the vision, the image of the Virgin Mary was imprinted on his cloak. Deemed a miraculous work by the church, Diego's cloak now hangs in the Basilica de Guadalupe in Mexico City, and each year, on Dec. 12, Mexicans honor their patron saint with parades and religious celebrations.
*Fun foodie facts: Traditional Mexican cooking can contain a medley of fresh and powerful spices.
***As well as this information, which is not on any of our old blogs:
*Local produce: Fish, meats, locally grown and harvest fruit and vegetables.
*Main religions: Roman Catholicism
*Banquet (party) dishes: Grilled Corn with Cilantro Lime Butter. ...
Spicy Chicken and Hominy Mexican Soup. ..
*Indigenous communities and their dishes:Afro-Mexicans
*Native species:
| | |
| --- | --- |
| Allspice | |
| Spinyleaf Zinnia | |
| Thompson's Yucca | |
| Six Weeks Grama | |
| Mayfield's Sunflower | |
| Brushholly | |
| Acapulco Wedelia | |
| Tourist-Plant (Spectacle-Pod) | |
| Rough Joint-fir | |
| Totoloche Grape | |
Tags :
Kitchen Connection
Maxico
Featured
Country
Maxican
Food
Travel
Kitchen Connection

Using this space to Connect you with the world, your world!