Kitchen Connection - Kitchen Connection Goes to: Singapore
Back to Blogs
Step onto the island of Singapore and, one of the first things you'll notice, besides the crushing humidity, is that all public signs are written in four languages: English, Malay, Mandarin and Tamil. This is representative of the four major races in Singapore.

Eid, Christmas, Chinese New Year, Diwali – these are all official public festivals in Singapore, celebrating its distinctive blend of cultures and traditions, naturally giving rise to a unique local food identity.

To talk of local Singapore food is to talk of Malay, Chinese, Indian (north and south), Eurasian, Nyonya, and to some extent, Arabic food." Naturally, the Malays, being Muslims, don't eat pork while the Indian Hindus stay clear of beef.
I. 'INSIDER 'FOODAGE'

Country: Singapore
Continent: Asia
Capital: Singapore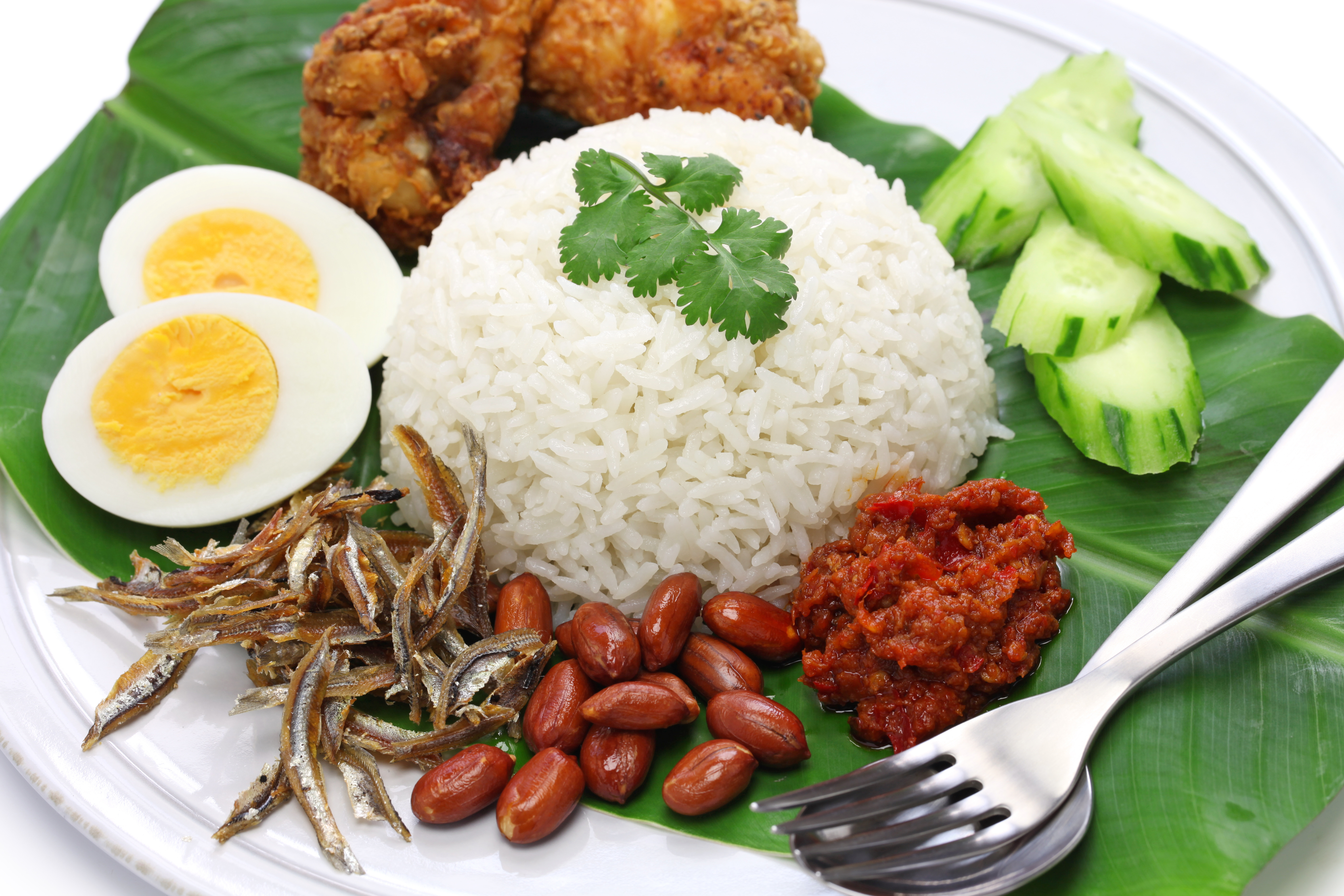 Nasi Lemak
The leading influences on the Singaporean cuisine include Malays, Indians, Portuguese, Western culture, China, and Thailand among other regions. Religion also plays a significant role in determining what people eat and what not to eat. Muslims for example, are forbidden to partake in pork. While Hindus in Singapore do not partake in beef meat at any cost, chicken Rice forms the main national dish of the Singaporean people.

Largest City (ies): Singapore is a single island-city
Culinary travel destination(s): Lau Pa Sat, Sentosa Cove, Candlenut in Chinatown
Primary Language(s): English, Mandarin, Tamil, Malay
%Urban to Rural: 100% Urban vs. 0% Rural
Primary Agricultural Exports: Singapore does not have the space for large scale agriculture, so no exports in this field
Population: 5.7 million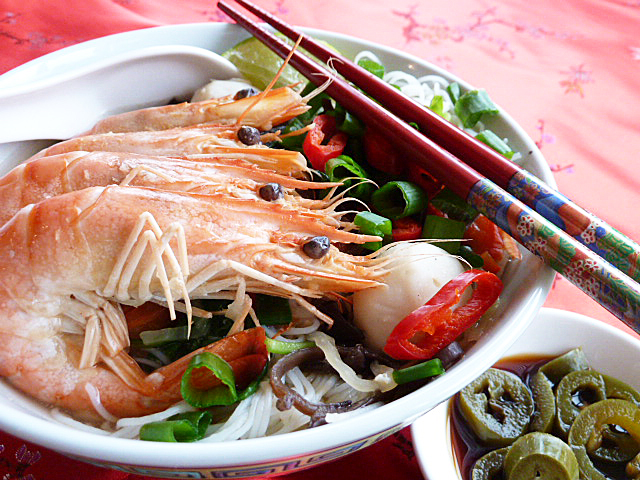 Prawn Noodle Soup by our Cheffie, Azlin Bloor
People from different communities and ethnic groups eat together with a core focus being on the type of food acceptable to the different communities. Culture plays a critical role in determining the type of food people eat. Singapore, despite being a tourist destination, is also a one State country with one capital city Singapur and towns.
*Food expenditure for one week: 90 dollars
*Caloric intake available daily per person: 2,085
*Alcohol consumption per person: 2 litres
*Obese population, male 9.5% /female 7.3%
*Big Mac Price: 3.60 Singaporean dollar
*Meat consumption per person per year: 71.1kg
Prevalence of Hunger: Very low (Via World Food Programme)
***Facts and Figures Via Hungry Planet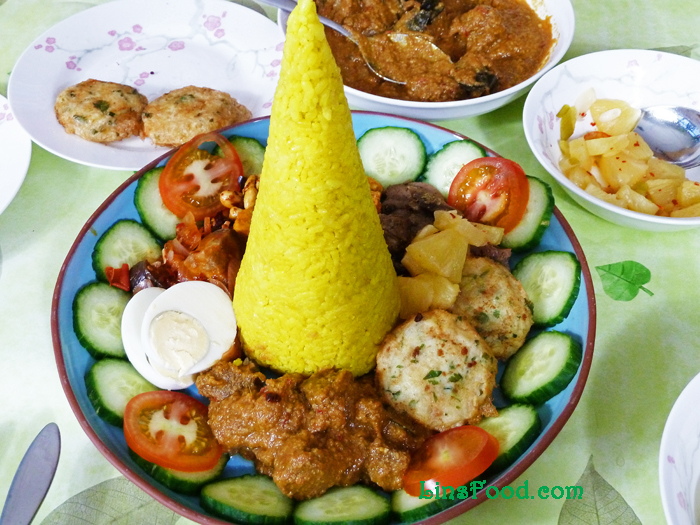 Nasi Kuning, by our Cheffie, Azlin Bloor
Culture: Asian European, South Asia, & Eurasian
National Dish (es): Although there are no national dishes in Singapore, there are iconic dishes like: Hainanese Chicken Rice, Laksa, Beef Rendang
National Drink(s): Although there are no national drinks in Singapore, there are iconic drinks like: Teh Tarik - milky tea poured at great heights between 2 mugs, giving a layer of foam, fresh soya bean milk, milo (a chocolatey malt drink). A favourite pastime of Singaporean males is to meet up at hawker centres or kopi tiams (old fashioned coffee shop) to have coffee or tea while catching up, much like folks do in pubs in the West. But there are many variations to the tea and coffee drunk, some examples: Teh Halia - milky ginger tea// Kopi "O" - black coffee // Kopi Peng - with ice. The Singapore Sli is a cocktail that was invented at Raffles Hotel and has since been replicated in bars around the world.
Special Holiday Foods: Holiday foods will depend on the holiday and the family's ethnicity. The following are just some examples:

Eid: Lontong and Beef Rendang

Chinese New Year: Steamboat (a soup made in a large pot on the table), raw fish salad

Christmas: the Eurasians will have Curry Devil

Diwali: Biryani, Laddoos


Regional food differences: Chor mee
Fun foodie facts: Singapore is the smallest country in South East Asia with over five million people. It is also one large Island with 63 other smaller islands. The Orchids flower is the national symbol of progress. Fish with a lion head represents Singapore's city symbol, which signifies desire of Singaporean people to move forward. Singapore has restricted number of cars. One must own a permit to before buying a car.

***Special thanks to Azlin Bloor for editing and contributing to this post. Check out her book, Simply Singapore, for more on Singaporean food and culture.
Tags :
Kitchen Connection
Singaporean
Featured Country
Singapore
Food
Travel
Kitchen Connection

Using this space to Connect you with the world, your world!